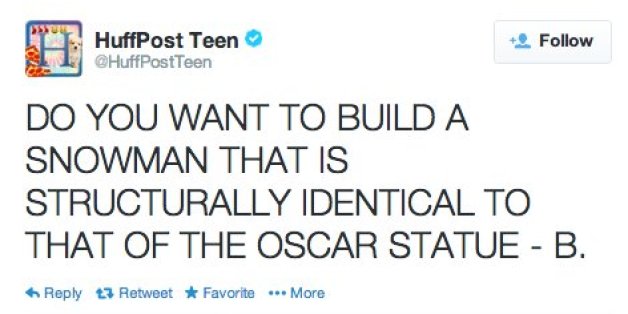 Here are 30 of the most hilarious moments from our Twitter #TeenTakeover. (Ellen, we'll have our people call your people -- because these teens would make awesome backup hosts for next year's show.)
Anne Hathaway walking out to "I Dreamed A Dream" = please it's too early in the awards for me to be crying. - B
I AM EMOTIONALLY ATTACHED TO BRADLEY COOPER'S SMILE -K
BUT I'M NOT GONNA PRETEND THAT IT DIDN'T BREAK MY HEART THAT LEONARDO DICAPRIO DENIED A SLICE. BABY WHY. - B
THEY WERE JUST PLAYING RUE'S LULLABY FROM THE HUNGER GAMES. I HEARD IT, AND I FELT IT. -K
Confessional: I'm scared Leo will win and that I won't be able to breathe and that half of the world's population will just evaporate
I feel so connected to all those beautiful people with their uncomfortable giggles and dreams of holding shiny trophies -K
YOU COULD HEAR LEO'S BOYISH LAUGH IN ELLEN'S MICROPHONE AND MY HEART GREW 10x BIGGER LIKE THE OSCARS GRINCH. - B
Ellen DeGenres is just like that quote from TFIOS: "She is funny without ever being mean." - B
I would honestly consider selling parts of my body for Ellen to be a member of my family -K
Ellen: "Aren't you all hungry?"
Jennifer Lawrence: *claps with gusto* -K
SOLID Finding Nemo joke. SOLID. -K
New fashion trends: Whoopi Goldberg's 4085981 foot long pearl necklace. -K
Plot twist: Glenn Close's evil twin, Glenn Far Away suddenly appears on stage. -K
A fan club for Sally Fields's cheekbones. -K
Joseph Gordon-Levitt more like Joseph Gordon-LEVITATES ME INTO AN OUT-OF-BODY EXPERIENCE -K
Matthew McConaughey is a human Klondike bar. I would do anything for him. - B
THE SPEECHES
Jared Leto's speech is so so so good. I am going to photoshop his hair over mine in all of my Facebook pictures. - B
Can we just, like, record all of the acceptance speeches on loop so I can fall asleep to the voices of champions every night? Maybe? -K
Honestly have no idea what Jim Carrey is talking about but the glasses game is so strong. - B
"#suckit" Cate Blanchett is one of us. - B
'Gravity' is OUT OF THIS WORLD with all of their Oscar wins tonight and yes I am ashamed of myself for that pun - B
If we all rally together and submit security cam footage of Bradley Cooper in a Jamba Juice, it too could win a Best Documentary Oscar. - B
His voice makes me want to eat a baguette. -K
OTHER IMPORTANT OBSERVATIONS
"People are vicious and need to be sterilized." - Jimmy Kimmel, also me when walking through the school hallway.
All the old people in the audience just laughed at a joke I didn't understand -K
'O'Russell' rhymes with 'American Hustle' and I'm pretty sure that's the only reason he took the job -K
The only thing cooler than Spike Jonze's Oscar win is Spike Jonze's name. -K
Distracted by the minions. -K
SUBSCRIBE AND FOLLOW
Get top stories and blog posts emailed to me each day. Newsletters may offer personalized content or advertisements.
Learn more