Everything You Need To Know About Paczki, The Ultimate Fat Tuesday Treat (PHOTOS)
CHICAGO -- Dinkel's Bakery is a Mardi Gras madhouse on the morning of Fat Tuesday. A few patrons grab for coffee and king cakes in the 92-year-old North Side bakery, but what everyone is really there for are the paczki.
In cities around the country and particularly in the Polish communities of Midwestern cities like Chicago, Detroit and Cleveland, "Paczki Day" is a beloved tradition that dates back to the Middle Ages.
Making the fried, cream-filled paczki was a way observant Catholics could empty their stock of lard, sugar, eggs and fruit — foods typically avoided during the Lenten fast — before Ash Wednesday.
At Dinkel's in Chicago, the fryers have been working overtime since Paczki Day officially started last Thursday. An employee estimated that as of Tuesday's morning rush, the bakery had made roughly 18,000 paczki and would continue frying throughout the day.
In Hamtramck, the heavily Polish enclave of metro Detroit, groups like the Polish League of American Veterans have hosted paczek-eating contests and a neighborhood bar, Small's, serves up vodka-filled mini paczki (dubbed "paczki bombs.")
(See Paczki Recipes and more below)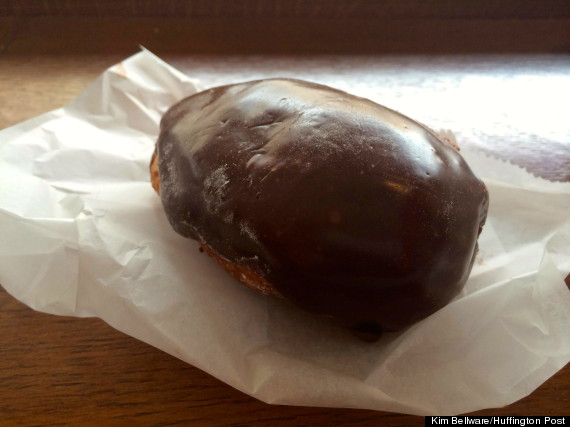 PACZKI POINTERS
The singular form of "paczki" is "paczek."
Debate roils over the "proper" pronunciation of the word, but popular pronunciations sound a lot like "PUNCH-key," "POONCH-key" or "POANCH-key." (Continue that unwinnable argument amongst yourselves in the comments section.)
Paczki Day officially falls on the Thursday before Ash Wednesday, though it's popularly celebrated on the same day as Fat Tuesday or Mardi Gras.
Traditional paczek fillings include rose-hip, cherry and prune, though most bakeries include more modern fillings like custard, chocolate, raspberry and lemon curd.
Don't be fooled by imitations. While paczki may look like jelly donuts, bismarks and the like, they are different: Paczki are eggier and denser. As Dobra Bielinski of Delightful Pastries explained to WBEZ in Chicago, "People really eat jelly-filled doughnuts for the filling, not the doughnut itself...With a paczki, what happens is that people eat it for the dough and not the filling. Relatively, there is less filling and and more dough. Once this cools off, when you bite it, it springs back, it doesn't collapse like pancake."
Want to make your own paczki? Check out our recipe for the fried treat below!
How To Make Paczki At Home
Paczki recipe adapted from Serious Eats. My version is halved after seeing the enormous lump of dough from my first try. The original claims to make 18, my halved recipe made 20 more modestly sized paczki. 1 cup whole milk 2 ¼ teaspoons instant yeast (1 standard sized envelope) 1/4 cup plus 1/2 tablespoon sugar 2 1/2 cups all-purpose flour 2 eggs yolks plus half egg (this is the only weird measurement from halving the recipe -- I eyeballed it) ½ teaspoon salt 1/2 teaspoon vanilla extract 1 teaspoon Bacardi 151 or other high alcohol liquor 1/8 cup unsalted butter (1/4 of a stick), melted and cooled 1 quart canola oil 1 jar of preserves (I used raspberry) 1 cup powdered sugar for dusting You will need a baking tray, a saucepan, at least two bowls, spatula or tongs and a whisk. Optional equipment: mixer, round doughnut or cookie cutter, parchment paper, thermometer, pastry bag and filling tip -- I used the pastry bag and tip but none of the other equipment, though it might make your life easier.

I bought more-traditional plum butter, but ended up using only raspberry preserves.

Heat milk to 110 - 115 degrees, or until warm to the touch -- don't overheat. Pour in a bowl and whisk in packet of yeast. Then add 1/2 tablespoon sugar and 1 cup of the flour. The dough will be wet looking and thin. Cover it securely -- I used a dishtowel and rubber band, though plastic wrap will work if you have it. You want to keep it somewhere warm (in front of a vent is always good) for 30 minutes until it's bubbling. The first time around, I messed up in this very first step! I'm of the sect who's convinced that you don't need to go out and buy the fancy gadgets a recipe calls for, rather it's easy enough to make do with what you have in the kitchen and junk drawer. That means when I couldn't find my cooking thermometer, I shrugged my shoulders and thought I'd be fine without. Instead, I overheated the milk, and when I added the yeast, I killed it. You don't want it to form lumps. When it didn't get bubbly I should have thrown in the towel -- instead, I kept right on baking through several more steps and was left with a couple pounds of unrisen dough. You don't need a thermometer -- the second time I just used caution and made sure the milk was only lukewarm.

While you're waiting, melt your butter in the microwave and let it cool. Separate your eggs. I first broke an egg, whisked it together, and set half aside. I then added three yolks to the half egg. Refrigerate the whites and half egg for a healthy post-paczki breakfast scramble. Whisk the eggs until your arm hurts and they are light and frothy, somewhere around three minutes. Continuously whisk as you add the rest of the sugar, the salt, vanilla and liquor. The mixture will separate, so if you are waiting a moment make sure to give it another few swirls before using. Take the melted butter (it should still be liquidy, but not hot) and slowly add it to your spongy, bubbly dough. Use a mixer with a dough hook if you have it -- I used a wooden spoon, which I think is better to keep you from overmixing the dough. Add the egg mixture slowly until just combined. Then add the remaining 1 1/2 cups flour a little at a time, again mixing until just combined. The dough will be sticky and difficult to manage.

Use a little bit of your canola oil to grease a clean bowl, then transfer your dough. Cover it tightly and put it back in the warm place for one to two hours or until it doubles in size.

Thank goodness it rose!

Punch out your dough on a floured surface. It should be very sproingy -- you will have trouble making it flat. Try to keep it less than an inch thick and use any round object -- I used a glass -- to cut out circles. Keep re-rolling your dough until you have used all of it.

Put the dough circles on a tray covered in parchment paper or very lightly greased and cover with a cloth. They should nearly double in size, or about 30 minutes.

Heat oil in a saucepan. You want it to be at least an inch deep. Keep the flame on low, adjusting depending on how quickly the paczki cook.

Gently place the paczki in the oil one or two at a time. Don one as a test to see how hot your oil is -- they should take about one to two minutes to cook on each side, until they are a nice golden brown. If they brown too quickly, turn down your heat so they have time to cook all the way through.

Let paczki cool on a rack for a few minutes.

Use a pastry bag to fill each doughnut with jam, jelly, custard or anything else (Nutella, anyone?!). If you don't have a pastry bag, use a knife to make a slit and then use a small spoon to drop in the filling.

Pour powdered sugar in a shallow bowl or tray and roll the paczki in it.

Paczki are best eaten fresh so don't hold on to them.
Kate-Abbey Lambertz contributed to this report
Want to read more from HuffPost Taste? Follow us on Twitter, Facebook, Pinterest and Tumblr.