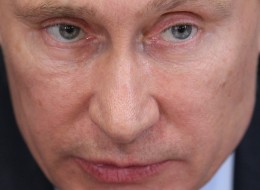 MOSCOW (AP) — In some ways, the venue Vladimir Putin chose and the emotional lecture he gave the world about Russia's actions in Ukraine said it all.
In an hour-long chat with a handful of Kremlin pool reporters at his presidential residence, Putin sat in an easy chair and spoke with the bravado of an ex-KGB agent suspicious of Western plots.
Wagging his finger at the reporters, the defiant leader dismissed the threat of U.S. and European Union sanctions, alleged that "rampaging neo-Nazis" dominate Ukraine's capital, and said the Russian and Ukrainian soldiers locked in a standoff in Crimea are actually "brothers in arms." A look at Putin's appearance and what it says about the crisis and him.
STANDING TOUGH
Putin has long been famous for his cool public demeanor at public appearances that often are carefully stage managed.
But during Tuesday's news conference — which was televised live across Russia — he made it clear that he takes the Ukraine crisis personally.
He accepted questions from the reporters about the threat of war in Ukraine, the Russian military takeover of the country's Crimea Peninsula, and the looming Western sanctions.
But he batted them away with his usual mix of disdainful sarcasm and political arguments in a rapid-fire delivery. When someone's cellphone rang in the middle of live broadcast, something that reportedly makes him mad, Putin paused then continued his speech.
Putin's performance seemed to reflect his genuine anger about what he sees as the West's hypocrisy and its heavy-handed involvement in Ukrainian affairs.
His remarks also showed what many observers have spotted: his deep involvement and strong personal feelings about the Ukrainian crisis, which he blames on the West.
He also seems to see Ukraine as a defining moment of his 14-year rule and a key turning point for the post-Cold War Europe.
___
PUTIN'S RATIONALE
Putin acknowledged that the Ukrainians who rallied against their president, Viktor Yanukovych, were driven by anger against corruption and nepotism in his government. But Putin said the nation's new government is merely "replacing some cheats with others."
He denounced the ouster of Yanukovych as an "unconstitutional coup and armed seizure of power." Putin claimed that the radical nationalists wearing swastika-like bands had come to control Kiev, and alleged that the snipers who shot and killed more than 80 people during the protesters were provocateurs, not government soldiers.
"Armed, masked militants are roaming around Kiev," he said. Asked if Russia would recognize the outcome of Ukraine's election set for May, he said, "We will not if such terror continues."
He insisted that Yanukovych, who fled to Russia, remains the only legitimate leader of Ukraine. But he also spoke about Yanukovych with disdain, saying he has failed in his presidential duties.
U.S.-TRAINED RADICALS
Putin accused the West of staging the massive protests in the Ukrainian capital in order to reduce Russia's clout there. He claimed that radical demonstrators involved in violent clashes with police in Kiev were trained by Western instructors.
"I have a feeling that they sit somewhere in a lab in America over a big puddle and conduct experiments, as if with rats, without understanding the consequences of what they are doing," he said.
He said the ouster of Yanukovych hours after he had signed a deal to surrender much of his power and hold early elections has plunged Ukraine into chaos and put it on the verge of breakup.
"READY TO USE ALL MEANS"
Putin said that "we reserve the right to use all means we have" to protect Russian speakers in eastern Ukraine from violent Ukrainian nationalists. But he added that he hopes there will be no need for sending Russian troops there.
"We don't want to enslave anyone or dictate anything," he said. "But we won't be able to stay aside, if we see them being hunted down, destroyed and harassed."
He made it clear that Russia doesn't see the Ukrainian military as a serious adversary, saying that Russian and the Ukrainian soldiers are "brothers in arms" who will stand "on one side of the barricades."
He said that weeklong war games in western Russian that involved 150,000 troops, hundreds of tanks and dozens of combat jets, had been planned earlier and weren't linked to the developments in Ukraine, adding that he ordered them back to their bases.
STANDOFF IN CRIMEA
Putin says that Russian forces in Ukraine's strategic region of Crimea, which hosts a major Russian naval base, have beefed up security to fend off threats from Ukrainian nationalists. He denied that the troops, who have overtaken Ukrainian military bases across Crimea, were Russian and described them as local "self-defense forces."
Putin said that Moscow has no intention to annex Crimea. At the same time, he strongly supported a local referendum on Crimea's status, saying that people there have the right to determine their fate.
TURNING TABLE ON THE WEST
Putin rejected Western accusations of Russian aggression against Ukraine, saying the U.S. should know better, given what it has done.
"We have to remind them about the U.S. action in Iraq, Afghanistan and Libya, where they acted without any sanction of the United Nations Security Council, or wilfully interpreted its resolution as in the case of Libya," he said. "Our partners, particularly in the United States, always clearly formulate their geopolitical and state interests and aggressively pursue them. They try to pull the rest of the world under them and start hitting those who put up resistance, eventually finishing them off, as a rule."
He did not mention that the Soviet Union invaded Afghanistan in December 1979, starting a war that lasted for nearly a decade and precipitated the collapse of the Soviet Union.
THINK TWICE ABOUT SANCTIONS
Putin has shrugged off Western threats to impose political and economic sanctions against Russia over its actions in Ukraine, saying that they will backfire against the West.
"In the modern world, where everything is linked and everyone depends on others in one way or another, we can incur damage to one another, but it would be mutual damage," he said.
Asked about the possibility that members of the Group of Eight will not show up at its summit scheduled in Sochi in June, he said: "If they don't want to come, it's OK."
Share +
The White House released a statement from the U.S. and Ukraine on nuclear proliferation today. After the fall of the Soviet Union, Ukraine was the third-largest nuclear weapons state. It gave up the weapons to Russia in the 1994 Budapest Memorandum, in exchange for security assurances from Russia.
Read the full statement:
On the occasion of the third Nuclear Security Summit in The Hague, the United States and Ukraine today reaffirm their strategic partnership and emphasize the important role of nuclear nonproliferation in that relationship. The United States values its 20-year partnership with Ukraine on these issues. Our nonproliferation partnership dates from Ukraine's 1994 decision to remove all nuclear weapons from its territory and to accede to the Treaty on the Non-Proliferation of Nuclear Weapons as a non-nuclear-weapon state. In the 1994 Budapest Memorandum, the United States, the Russian Federation, and the United Kingdom of Great Britain and Northern Ireland welcomed these Ukrainian actions, and they reaffirmed their commitment to Ukraine to respect the independence, sovereignty, and existing borders of Ukraine. The United States government reaffirms that commitment today to the new Ukrainian government and the people of Ukraine, including in Crimea. The United States government condemns Russia's failure to abide by its commitments under the Budapest Memorandum with its unilateral military actions in Ukraine. Russia's actions undermine the foundation of the global security architecture and endanger European peace and security. Ukraine and the United States emphasize that they will not recognize Russia's illegal attempt to annex Crimea. Crimea is an integral part of Ukraine. The United States will continue to help Ukraine affirm its sovereignty and territorial integrity. As the people of Ukraine work to restore unity, peace, and security to their country, the United States will stand by their side.
The United States and Ukraine reiterate their commitment to upholding their nuclear nonproliferation commitments. The United States recognizes the importance of the 2012 removal of all highly enriched uranium from Ukraine. This removal again highlighted Ukraine's leadership in nuclear security and nonproliferation, as we collectively work together to secure the world's vulnerable nuclear material. As part of its support for this effort, the United States committed in 2010 to work with Ukraine to construct a Neutron Source Facility at the Kharkiv Institute for Physics and Technology. This month construction of the Neutron Source Facility was completed. The facility, equipped with the most up-to-date technology to operate at the highest safety standards, provides Ukraine with new research capabilities and the ability to produce industrial and medical isotopes for the benefit of the Ukrainian people.

This state of the art facility is representative of the modern, European state the Government of Ukraine is committed to building. To build on this important cooperation, the United States will continue to provide technical support for the Neutron Source Facility as Ukraine completes the necessary final equipment installation, testing, and start-up to make the facility fully operational as soon as practical.

This successful effort reflects broad U.S.-Ukrainian cooperation on nuclear security and nonproliferation. Our countries recently extended the U.S.-Ukraine Cooperative Threat Reduction (CTR) Umbrella Agreement and the U.S.-Ukraine Agreement Concerning Operational Safety Enhancements, Risk Reduction Measures, and Nuclear Safety Regulation for Civilian Nuclear Facilities in Ukraine.

The United States and Ukraine intend to continue to partner to prevent nuclear proliferation by improving Ukraine's ability to detect nuclear materials on its borders, to provide physical protection at sites with nuclear or radioactive materials, and to maintain an adequate export control system in order to help realize the goals of the Nuclear Security Summits.
--Luke Johnson