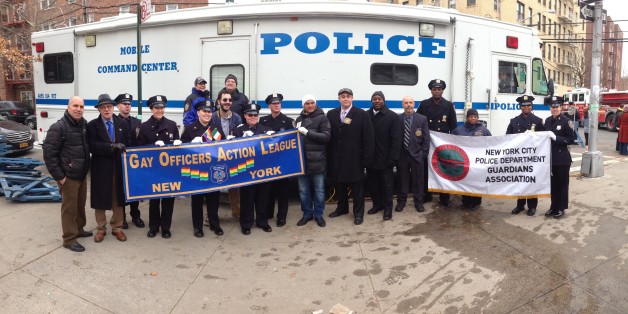 Gay Officers Action League
New York City Mayor Bill de Blasio received praise from a number of lesbian, gay, bisexual and transgender (LGBT) rights advocates after he opted to march in Queens' St. Patrick's Day parade, which was all-inclusive, instead of its Manhattan counterpart.
GOAL President Carl Locke called the support from the three fraternal NYPD groups "incredibly moving" in an email to The Huffington Post, noting that everyone was welcome to participate in the Queens St. Patrick's Day parade.
"Having our brothers and sisters in blue stand with us in solidarity shows just how much times have changed," he said. "I personally felt the meaning of 'we've got your back' and it feels nice."
He then added, "It's now time the organizers of Manhattan's St Patrick's Day parade...include the LGBT community."
Also on HuffPost:
NYPD Groups Join St. Pat's Parade In Queens
FOLLOW HUFFPOST