Wading the curious stretch around 32nd Street and Broadway that makes up New York's Koreatown, beyond the bulgogi and bibimbap.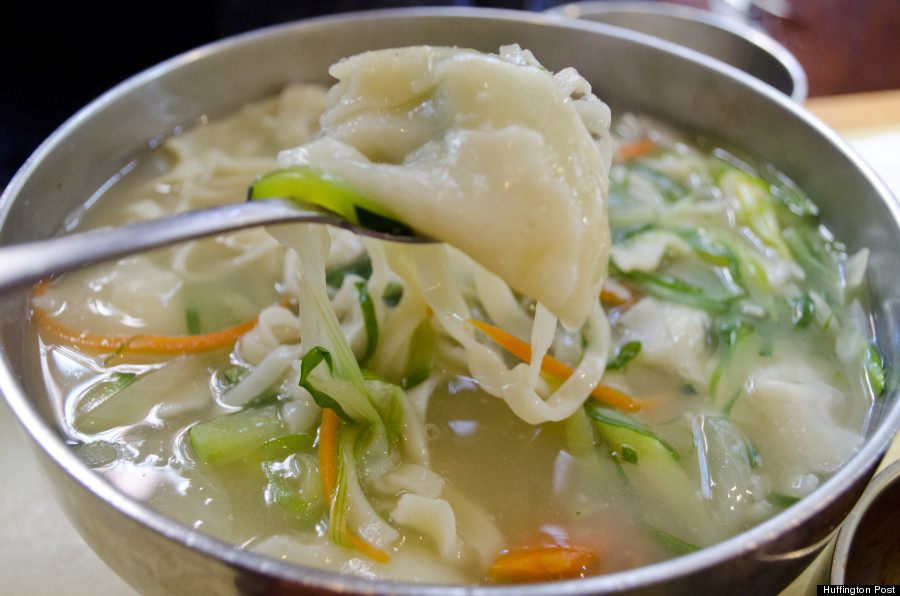 1. Knife-Cut Noodles (Kalguksu)
Where:
Arirang
What it is:
Thick, chewy noodles cut right in front of your eyes in a savory chicken or anchovy broth, topped with julienned zucchini and carrots. What chicken and dumpling soup is to the south,
kalguksu
is for Koreans -- classic comfort food with stomach-expanding tendencies. Arirang also serves bowls of
sujeabe
, fat dumpling flakes thumbed out from dough in broth. For those who can't make up their mind, go for both: the
kar-gearbe
includes both noodles and dumplings. The portions at Arirang are huge, so bring an appetite -- or an extra person.
Address:
32 W. 32nd Street.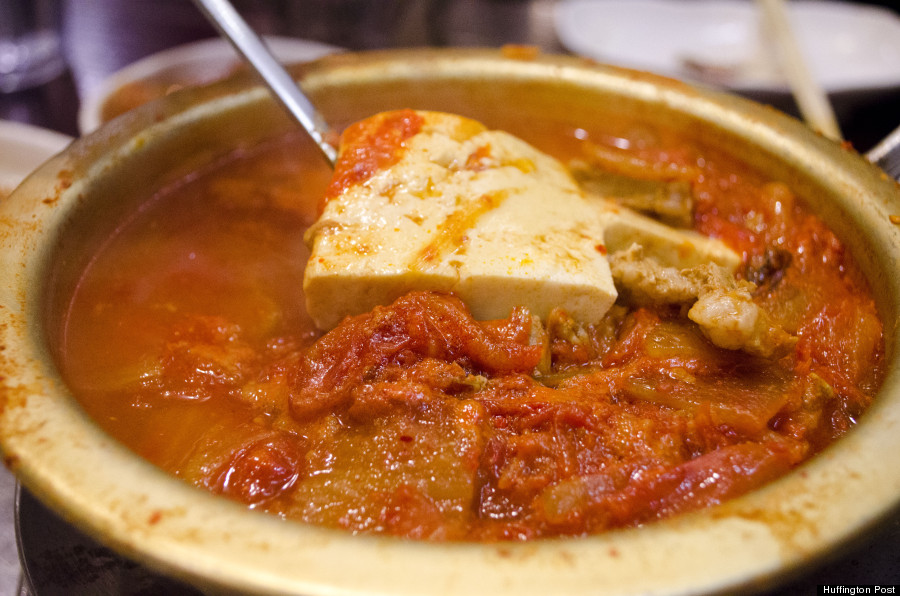 2. Kimchi Stew (Kimchi Jigae)
Where:
Muk Eun Ji
What it is:
By now, everyone knows
kimchi
. But not everyone knows that as kimchi ages, the fermented cabbage can create a rich and complex flavor that, when stewed with slices of pork and tofu, reaches restorative qualities. Hooni Kim, chef and owner of New York's
Danji
-- the first Korean restaurant in America to receive a Michelin star -- calls Muk Eun Ji his go-to place for the popular meal. "It is my Korean restaurant for
kimchi jigae
anywhere, and that includes Flushing. The ruby red color is pretty impressive, and the texture of the broth itself is nice." That's good news for a restaurant whose champion dish is built into its name: "Muk eun ji" means "aged kimchi" in Korean.
Where:
34 W. 32nd Street.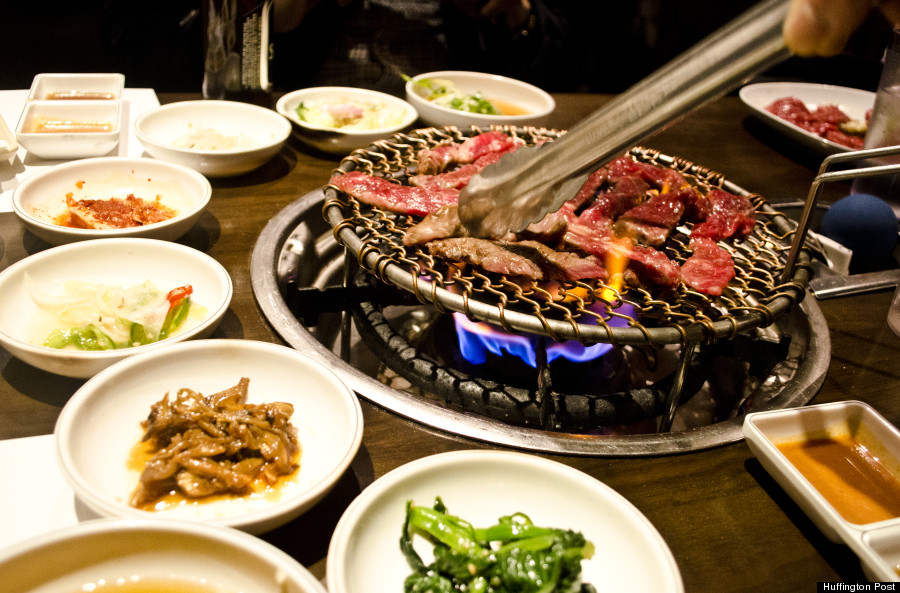 3. Korean Barbeque (Kalbi)
Where:
Don's Bogam
What it is:
Koreans love grilling their own meat table-side, with plentiful side dishes of pickled vegetables, lettuce and various salty dips to create little wraps. One barbeque house in the city is a cut above the rest. Don's Bogam uses noticeably higher-quality short ribs, beef brisket and pork belly, among others, and takes advantage of a smart ventilation system that prevents the smoke from the built-in gas grills from getting into your eyes (and pores). It's also a bit more upscale, which explains the pricier numbers.
Runners-Up:
NY Kom Tang Kalbi House
and
New Wonjo
, both of which use charcoal grills. Expect a wait at all three.
Address:
Don's Bogam: 17 E. 32nd Street.; NY Kom Tang Kalbi House: 32 W. 32nd Street; New Wonjo: 23 32nd Street.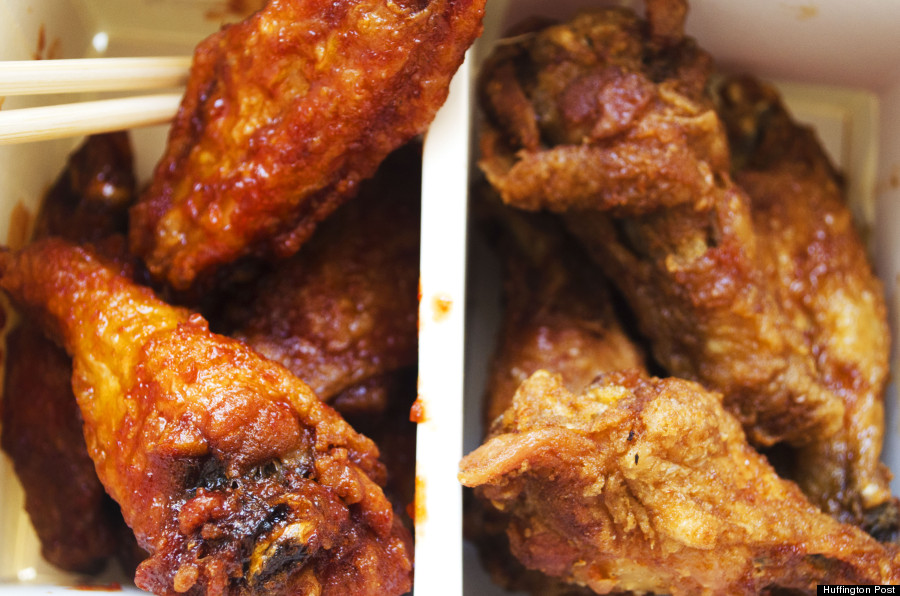 4. Fried Chicken (Yangnyeom-tongdak)
Where:
Kyochon
What it is:
Sweet, fatty, twice-fried, it's not hard to understand Korean fried chicken's sudden popularity stateside. South Korean chain Kyochon finally opened a flagship store in New York in 2010, and their flavorful chicken wings, served glazed in honey, soy garlic or hot and sweet sauce, were our favorite among those we tried: clean, crispy, addictive. Hooni Kim, the chef at Danji, helps explain why: "What Kyochon doesn't let people know is that they don't use any MSG. All the chickens are free-range chicken, really good products … The sauce comes from Korea refrigerated, because it only lasts three months."
Runner-Up:
Bonchon
.
Address:
Kyochon: 319 5th Avenue; Bonchon: 325 5th Avenue.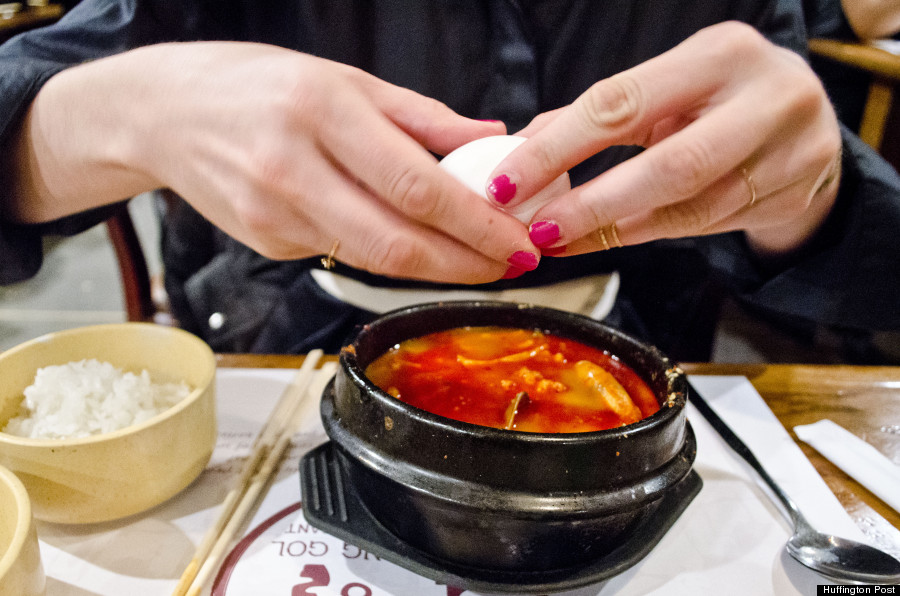 5. Spicy Tofu Stew (Soondubu)
Where:
Cho Dang Gol
What it is:
A bubbling cauldron of spicy beef, seafood or vegetable-based stew, piled with silken tofu. The best part of ordering
soondubu
is the fun to be had in cracking a raw egg straight into the broth, so ask for your egg on the side. At Chong Dong Gol, the homemade tofu is really the star. The restaurant's chefs churn fresh vats of tofu at 5 P.M. daily -- right before dinner service -- and even serve a small bowlful of warm tofu at the start of each meal. The texture is as tender as flan.
Runner-Up:
BCD Tofu House
.
Address:
Cho Dang Gol: 55 W. 35 Street; BCD Tofu House: 5 W. 32nd Street.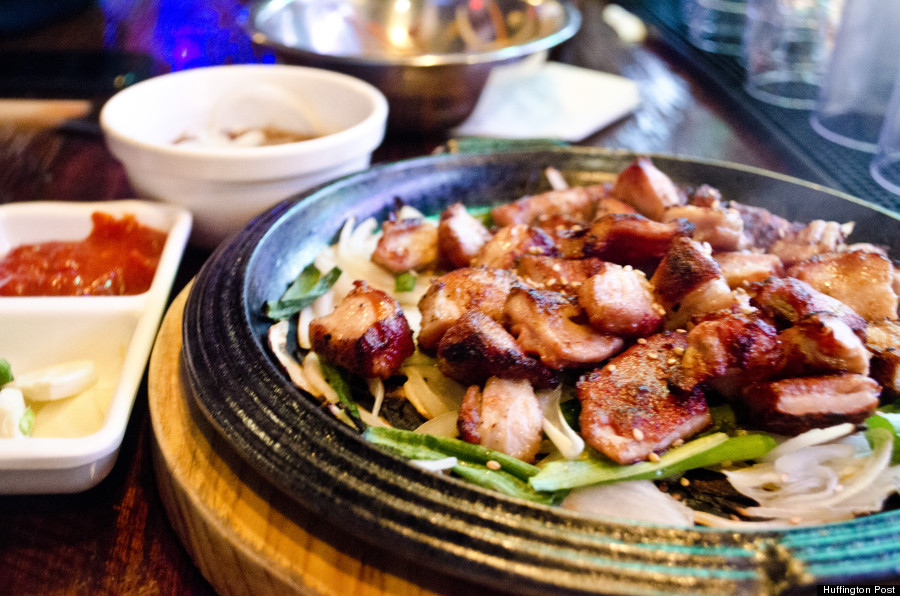 6. Best Bar Bite (Anju)
Where:
Bangia
What it is:
Mak Chang
, or grilled intestines.
Why:
We know the idea of large grilled pork or beef intestines doesn't sound immediately appetizing. But Korea has been doing nose-to-tail cooking way before Montreal made it a buzz word. If you like meat, with the texture of calamari, this sizzling hot plate of
mak chang
charred over fire and served with green onions, sliced hot peppers and miso paste, is delicious. It's also popular drinking grub (
anju
), which explains Bangia's popularity with Seoul hipsters and the blaring K-pop. Best paired with a cold bottle of OB (South Korean beer).
Address:
11 E. 32nd Street.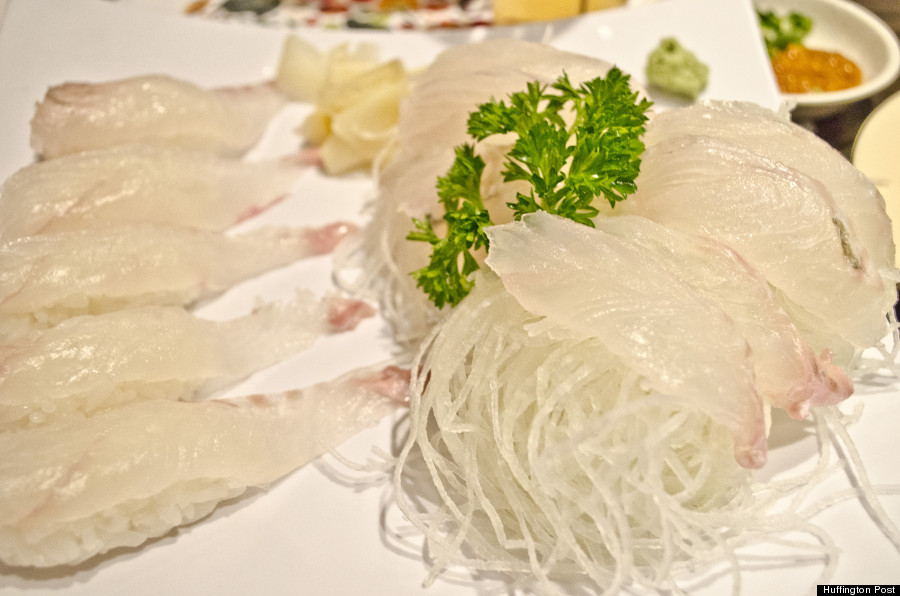 7. Sashimi (Saengseon Hoe)
Where:
Sunny Sashimi
What it is:
Like the Japanese, Koreans have made slicing raw fish into their own particular kind of art. Sunny Sashimi is one of the few places in the city that offers traditionally prepared Korean sashimi, popular among businessmen, and typically sliced from fluke. Chef Hooni Kim describes the difference: "[Koreans] like our sashimi freshly killed, and we don't like to gently kill the fish -- we like to shock the fish. All the cortisone goes into the fish and that's what makes it chewier. The Japanese kill the fish really gently, that takes several days. The freshest fish is not really fresh." Bonus: At the end of each omakase ordering, Sunny Sashimi finishes the meal with
meo-tang
, a spicy stew made from the bones and head of the fish, so that you're basically eating the whole fish.
Address:
2 W. 32 Street.
Want to read more from HuffPost Taste? Follow us on Twitter, Facebook, Pinterest and Tumblr.