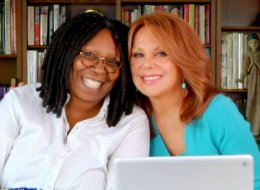 I was so excited to have the fabulous Whoopi Goldberg as a guest on Mondays With Marlo. We talked about everything from her struggle with poverty, to her most surprising star-struck moments, to some of the best advice she's ever received from her mother. She brings so much energy and wisdom to the table, and she is a true success story for aspiring comedians and actors.
For more about Whoopi's life and career, see the slideshow below:
Life And Career Of Whoopi Goldberg
In 1983, Whoopi appeared off-Broadway in "The Spook Show", a one-woman tour-de-force that featured all of her wildly original characters. Among those in the audience wowed by her talent was legendary director Mike Nichols, who brought the show to Broadway -- catapulting Whoopi to stardom, and catching the eye of director Steven Spielberg, who was casting his new film The Color Purple.

Director Steven Spielberg offered Whoopi a leading role in his film, "The Color Purple" in 1985, and it became an instant critical and commercial success, earning Whoopi an Oscar nomination for Best Actress.

Whoopi performed in several hit Broadway shows including "A Funny Thing Happened on the way to the Forum," with actor Nathan Lane, left, during its run in 1996.

Whoopi won massive critical acclaim for her standout role as a psychic in the 1990 film "Ghost" opposite Patrick Swayze and Demi Moore.

In 1990, Whoopi become the first black female to win an Oscar for Best Supporting Actress in nearly 50 years. Here, she arrives to the red carpet with her daughter, Alexandra Martin, at the 63rd Annual Academy Awards.

Whoopi was also the second black female in Oscar history to ever win an acting award. Here, she smiles with her Oscar in 1991 after winning Best Supporting Actress for her role "Ghost."

Whoopi was nominated for a Golden Globe for her stunning performance in the 1992 hit film "Sister Act." The film was one of the most commercially successful comedies of the decade, grossing well over $200 million.

In 1994, Whoopi became the first African-American female to ever host the Oscars, as well as the first woman to ever solo-host the show.

In 1998, Whoopi became the "Center Square" on the popular celebrity game show, "Hollywood Squares," hosted by Tom Bergeron, picking up a huge fan following. Here, she poses with actress Fran Drescher on set in 1998.

Whoopi joined the cast of the popular daytime talk show "The View" as a co-host and moderator in 2007, quickly making waves for her outspoken opinions. She continues to co-host on the show today.

In 2010, Whoopi made a three-week guest appearance in the Broadway version of the popular comedy, "Sister Act." She played the role of Mother Superior in the theater cast, following in the footsteps of Maggie Smith and Sheila Hancock.

Whoopi has made numerous public appearances at campaigns and events as a supporter of the LGBT community, helping to raise awareness of discrimination. Here, she attends the Gay, Lesbian, Bisexual and Transgender Awards at City Hall in New York in 2002.

Whoopi made a splash at the 86th Annual Academy Awards, presenting the award for outstanding film achievements of 2013 and showing off a pair of Oz-inspired ruby slippers.
Add Marlo On Facebook:
Follow Marlo on Twitter:

Weekly Newsletter

Sign up to receive my email newsletter each week - It will keep you up-to-date on upcoming articles, Mondays with Marlo guests, videos, and more!

Sign up here