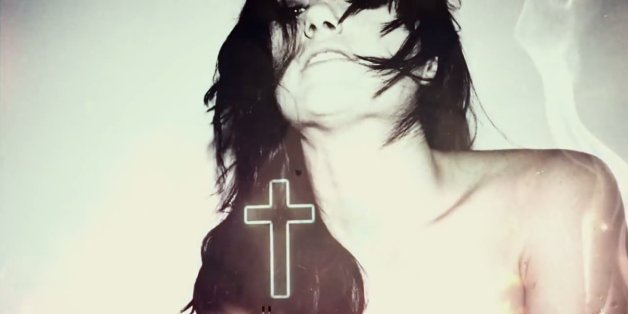 UPDATE: March 13 -- Sometimes in a flat circle, you pass yourself coming the other direction, and sometimes in a flat circle you think you're looking in a mirror and the face is not your own.
Following a report at the Daily Beast that former porn star Sasha Grey had identified herself as the model in a photo that appears in the opening credits of HBO's "True Detective," the photographer who took the photo in question reached out to The Huffington Post to confirm that the model was ... someone else.
Despite Grey's "100 percent" confidence that she is the woman in the image, photographer Derek Woods told HuffPost, "I hate to say Miss Grey is wrong, but unfortunately she is."
Woods' claim was corroborated by Elizabeth Brissenden, who models using the name Machete Bang Bang and says she's the actual person in the "True Detective" credits. "As much as I love being mixed up with Sasha Grey (super rad chick!), you have assumed the credit wrongly," Brissenden said to The Huffington Post. She also dated the image to a shoot three years ago.
As Woods explained, an independent company produced the credit sequence, but he was happy with how HBO handled things on its end. "I super appreciate the time the HBO, via the company that made the opening sequence, took to dig through Tumblr to find me to secure the rights," he wrote in a subsequent email. "No easy feet in today's world of removing credits all over Tumblr. It's truly an honor to be part of such an amazing show and to be part of so much Reddit dialogue and speculation. As a nerdy fan boy myself, its been a fun ride."
A representative from HBO confirmed with HuffPost that Woods is the photographer of the image and that Grey is not the model in the photo.
The Daily Beast interviewed Grey this week at SXSW for her new film "Open Windows" and showed her the credits' image, suggesting how much the girl resembled her. Seeing the image for the first time, Grey responded, "What the f--k?!"
"That's my nose!" Grey said, "That's me! One hundred percent … I'm in 'True Detective'!" Still confused she asked, "That's the opening credits? Yeah, I need to find out about this. That's so weird."
We reached out to HBO and Sasha Grey for comment, but have not received confirmation. Till then, Grey's cameo will remain the last unsolved "True Detective" mystery.
SUBSCRIBE AND FOLLOW
Get top stories and blog posts emailed to me each day. Newsletters may offer personalized content or advertisements.
Learn more