CHICAGO -- Every downtown worker's worst winter nightmare came true for one well-known political consultant as he was strolling through Chicago's Loop early Tuesday.
"The thing that really scared me was that there was a lot of blood, and I reached up and my hands were filled with blood and there was blood all over the place," Curry told NBC.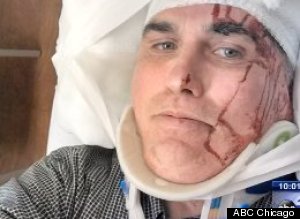 Curry in the hospital Wednesday.
"I didn't lose consciousness but we have all read stories, these unfortunate stories of people who have died from this, so you just don't know. It is a very frightening situation," Curry told ABC Chicago.
After the incident Curry took to Twitter where he connected with Brodala and shared a photo (embedded below) of him with Republican U.S. Senate candidate Doug Truax (for whom Curry is a spokesman).
FOLLOW HUFFPOST