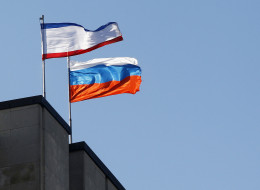 KIEV, Ukraine (AP) — Ignoring the toughest sanctions against Moscow since the end of the Cold War, Russian President Vladimir Putin recognized Ukraine's Crimean Peninsula as an "independent and sovereign country" on Monday, a bold challenge to Washington that escalates one of Europe's worst security crises in years.
The brief decree posted on the Kremlin's website came just hours after the United States and the European Union announced asset freezes and other sanctions against Russian and Ukrainian officials involved in the Crimean crisis. President Barack Obama warned that more would come if Russia didn't stop interfering in Ukraine, and Putin's move clearly forces his hand.
The West has struggled to find leverage to force Moscow to back off in the Ukraine turmoil, of which Crimea is only a part, and analysts saw Monday's sanctions as mostly ineffectual.
Moscow showed no signs of flinching in the dispute that has roiled Ukraine since Russian troops took effective control of the strategic Black Sea peninsula last month and supported the Sunday referendum that overwhelmingly called for annexation by Russia. Recognizing Crimea as independent would be an interim step in absorbing the region.
Crimea had been part of Russia since the 18th century, until Soviet leader Nikita Khrushchev transferred it to Ukraine in 1954 and both Russians and Crimea's majority ethnic Russian population see annexation as correcting a historic insult.
Ukraine's turmoil — which began in November with a wave of protests against President Viktor Yanukovych and accelerated after he fled to Russia in late February — has become Europe's most severe security crisis in years.
Russia, like Yanukovych himself, characterizes his ouster as a coup, and alleges the new authorities are fascist-minded and likely to crack down on Ukraine's ethnic Russian population. Pro-Russia demonstrations have broken out in several cities in eastern Ukraine near the Russian border, where the Kremlin has been massing troops.
Fearing that Russia is prepared to risk violence to make a land-grab, the West has consistently spoken out against Russia's actions but has run into a wall of resistance from Moscow.
Reacting to Monday's sanctions, Russian Deputy Foreign Minister Sergei Ryabkov declared that they were "a reflection of a pathological unwillingness to acknowledge reality and a desire to impose on everyone one-sided and unbalanced approaches that absolutely ignore reality."
"I think the decree of the president of the United States was written by some joker," Russian Deputy Prime Minister Dmitry Rogozin, one of the individuals hit by the sanctions, said on his Twitter account.
The White House imposed asset freezes on seven Russian officials, including Putin's close ally Valentina Matvienko, who is speaker of the upper house of parliament, and Vladislav Surkov, one of Putin's top ideological aides. The Treasury Department also targeted Yanukovych, Crimean leader Sergei Aksyonov and two other top figures.
The EU's foreign ministers slapped travel bans and asset freezes against 21 officials from Russia and Ukraine.
"We need to show solidarity with Ukraine, and therefore Russia leaves us no choice," Polish Foreign Minister Radoslaw Sikorski told reporters in Brussels.
Despite Obama's vow of tougher measures, stock markets in Russia and Europe rose sharply, reflecting relief that trade and business ties were spared.
"I guess the market view is that Russia forced their case in Crimea, pushed through the referendum, and the Western reaction was muted, so that this opens the way for future Russian intervention in Ukraine," said Tim Ash, an analyst who follows Ukraine at Standard Bank PLC.
On Monday evening Vice President Joe Biden was heading to Europe to meet with NATO allies. He was headed for Warsaw, where he was slated to meet Tuesday with Polish Prime Minister Donald Tusk and President Bronislaw Komorowski. He was to meet separately with Estonian President Toomas Hendrik Ilves. In Lithuania, Biden planned to meet with President Dalia Grybauskaite and Latvia's President Andris Berzins.
In the Crimean capital of Simferopol, ethnic Russians applauded Sunday's referendum that overwhelmingly called for secession and for joining Russia. Masked men in body armor blocked access for most journalists to the parliament session that declared independence, but the city otherwise appeared to go about its business normally.
"We came back home to Mother Russia. We came back home, Russia is our home," said Nikolay Drozdenko, a resident of Sevastopol, the key Crimean port where Russia leases a naval base from Ukraine.
A delegation of Crimean officials was to fly to Moscow on Monday and Putin was to address both houses of parliament Tuesday on the Crimean situation, both indications that Russia could move quickly to annex.
In Kiev, acting President Oleksandr Turchynov vowed that Ukraine will not give up Crimea.
"We are ready for negotiations, but we will never resign ourselves to the annexation of our land," a somber Turchynov said in a televised address to the nation. "We will do everything in order to avoid war and the loss of human lives. We will be doing everything to solve the conflict through diplomatic means. But the military threat to our state is real."
The Crimean parliament declared that all Ukrainian state property on the peninsula will be nationalized and become the property of the Crimean Republic. It gave no further details. Lawmakers also asked the United Nations and other nations to recognize it and began work on setting up a central bank with $30 million in support from Russia.
Moscow, meanwhile, called on Ukraine to become a federal state as a way of resolving the polarization between Ukraine's western regions — which favor closer ties with the 28-nation EU — and its eastern areas, which have long ties to Russia.
In a statement Monday, Russia's Foreign Ministry urged Ukraine's parliament to call a constitutional assembly that could draft a new constitution to make the country federal, handing more power to its regions. It also said the country should adopt a "neutral political and military status," a demand reflecting Moscow's concern that Ukraine might join NATO and establish closer political and economic ties with the EU.
Russia is also pushing for Russian to become one of Ukraine's state languages, in addition to Ukrainian.
In Kiev, Ukraine's new government dismissed Russia's proposal as unacceptable, saying it "looks like an ultimatum."
Ukrainian Foreign Minister Andriy Deshchytsya visited NATO headquarters in Brussels to request technical equipment to deal with the secession of Crimea and the Russian incursion there.
NATO said in a statement that the alliance was determined to boost its cooperation with Ukraine, including "increased ties with Ukraine's political and military leadership."
___
Associated Press writers Maria Danilova in Kiev, John-Thor Dahlburg in Simferopol, Lynn Berry in Moscow, Nedra Pickler in Washington, Pan Pylas in London and Mike Corder and Raf Casert in Brussels contributed to this report.
Share +
The White House released a statement from the U.S. and Ukraine on nuclear proliferation today. After the fall of the Soviet Union, Ukraine was the third-largest nuclear weapons state. It gave up the weapons to Russia in the 1994 Budapest Memorandum, in exchange for security assurances from Russia.
Read the full statement:
On the occasion of the third Nuclear Security Summit in The Hague, the United States and Ukraine today reaffirm their strategic partnership and emphasize the important role of nuclear nonproliferation in that relationship. The United States values its 20-year partnership with Ukraine on these issues. Our nonproliferation partnership dates from Ukraine's 1994 decision to remove all nuclear weapons from its territory and to accede to the Treaty on the Non-Proliferation of Nuclear Weapons as a non-nuclear-weapon state. In the 1994 Budapest Memorandum, the United States, the Russian Federation, and the United Kingdom of Great Britain and Northern Ireland welcomed these Ukrainian actions, and they reaffirmed their commitment to Ukraine to respect the independence, sovereignty, and existing borders of Ukraine. The United States government reaffirms that commitment today to the new Ukrainian government and the people of Ukraine, including in Crimea. The United States government condemns Russia's failure to abide by its commitments under the Budapest Memorandum with its unilateral military actions in Ukraine. Russia's actions undermine the foundation of the global security architecture and endanger European peace and security. Ukraine and the United States emphasize that they will not recognize Russia's illegal attempt to annex Crimea. Crimea is an integral part of Ukraine. The United States will continue to help Ukraine affirm its sovereignty and territorial integrity. As the people of Ukraine work to restore unity, peace, and security to their country, the United States will stand by their side.
The United States and Ukraine reiterate their commitment to upholding their nuclear nonproliferation commitments. The United States recognizes the importance of the 2012 removal of all highly enriched uranium from Ukraine. This removal again highlighted Ukraine's leadership in nuclear security and nonproliferation, as we collectively work together to secure the world's vulnerable nuclear material. As part of its support for this effort, the United States committed in 2010 to work with Ukraine to construct a Neutron Source Facility at the Kharkiv Institute for Physics and Technology. This month construction of the Neutron Source Facility was completed. The facility, equipped with the most up-to-date technology to operate at the highest safety standards, provides Ukraine with new research capabilities and the ability to produce industrial and medical isotopes for the benefit of the Ukrainian people.

This state of the art facility is representative of the modern, European state the Government of Ukraine is committed to building. To build on this important cooperation, the United States will continue to provide technical support for the Neutron Source Facility as Ukraine completes the necessary final equipment installation, testing, and start-up to make the facility fully operational as soon as practical.

This successful effort reflects broad U.S.-Ukrainian cooperation on nuclear security and nonproliferation. Our countries recently extended the U.S.-Ukraine Cooperative Threat Reduction (CTR) Umbrella Agreement and the U.S.-Ukraine Agreement Concerning Operational Safety Enhancements, Risk Reduction Measures, and Nuclear Safety Regulation for Civilian Nuclear Facilities in Ukraine.

The United States and Ukraine intend to continue to partner to prevent nuclear proliferation by improving Ukraine's ability to detect nuclear materials on its borders, to provide physical protection at sites with nuclear or radioactive materials, and to maintain an adequate export control system in order to help realize the goals of the Nuclear Security Summits.
--Luke Johnson