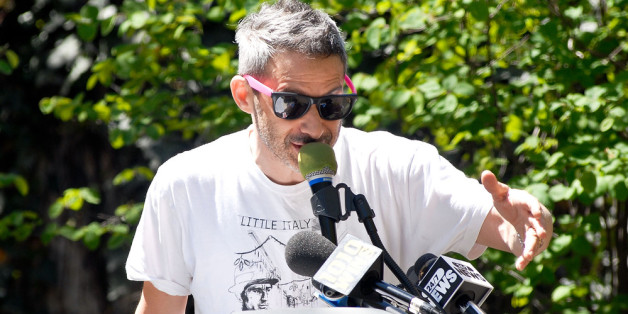 In an end to one of the biggest intellectual property battles of last year, the Beastie Boys have settled a back-and-forth legal battle with GoldieBlox for an undisclosed amount over the toy company's use of their music in a viral video hit.
"The lawsuit between the Beastie Boys and GoldieBlox concerning GoldieBlox's use of the Beastie Boys song 'Girls' has been settled," the company released in a statement, Rolling Stone reports. "That settlement includes (a) the issuance of an apology by GoldieBlox, which will be posted on GoldieBlox's website, and (b) a payment by GoldieBlox, based on a percentage of its revenues, to one or more charities selected by Beastie Boys that support science, technology, engineering and mathematics education for girls."
Based out of Oakland, California, GoldieBlox creates construction and building toys for girls to fight the stereotype that such engineer play is just for boys. The company's explosive YouTube video last year featuring three girls, their Rube Goldberg machine and a parody of the Beastie Boys' 1987 hit "Girls" excited parents and advocates for Girls in STEM (science, technology, engineering and math) programs but upset the band, whose late member Adam Yauch had stipulated in his will that none of the band's music ever be used in advertisements.
GoldieBlox replaced the song out of respect for Yauch's dying wish but filed a lawsuit in November seeking a declaration that the song used was a fair-use parody since they altered the arguably misogynistic lyrics to reflect the company's opposing message. The Beastie Boys filed a counterclaim lawsuit the following month alleging copyright and trademark infringement, false advertising, false endorsement and unfair competition.
When the lawsuits were first filed, legal experts speculated that GoldieBlox wouldn't have a leg to stand on in the case if the Beastie Boys original lyrics "Girls, to do the dishes / Girls, to clean up my room" were actually satire with the same message as the company's parody.
"My impression of the original song has always been that it's so over-the-top, that it seems to be a commentary unto itself on that macho party lifestyle of most hip-hop bands at the time," Boston attorney Steven M. Ayr told Vulture. "I think (GoldieBlox's) argument fails if the song, at the heart of it, isn't really as sexist as it would be if you took it literally. And the Beastie Boys specifically state in their response that this was a 'sarcastic anthem,' which would go to undermining the claim of parody."

Also on HuffPost:
GoldieBlox: Photos Of The New Toy
SUBSCRIBE AND FOLLOW
Get top stories and blog posts emailed to me each day. Newsletters may offer personalized content or advertisements.
Learn more