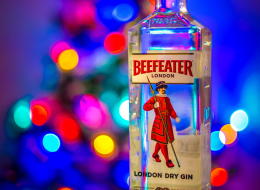 If there's one liquor that's truly polarizing, we'd have to say it's gin -- with tequila as a close second (from a night of one too many shots).
When it comes to gin, people are either die-hard fans or they can't handle its "Christmas tree" flavor. We have two things to say about that. First, anything that tastes like Christmas is awesome. And second, if you're tasting an unpleasant Christmas tree flavor, chances are you're drinking cheap gin. It's like saying you don't like burgers when you've only ever had one from White Castle.
Take a moment and educate yourself on this liquor that was once used as a prevention for the plague, to ease the pains of childbirth and to treat a lack of courage. And then go buy yourself a decent bottle of gin and mix yourself a classic cocktail.
Gin is basically made from pine cones.

Emilia Blom/500px

Gin is basically just vodka.

Kat Chadwick via Getty Images

The '80s were brutal in many ways, but at least they brought back gin.

RACKHAM /500px

You have the Dutch to thank for your next gin cocktail.

Hillary Fox via Getty Images

Gin was first sold at pharmacies, not bars.

Flickr: Barry Winiker via Getty Images

A proper martini is always made with gin.

Artifacts Images via Getty Images

The expression "Dutch courage" is all about gin.

albert mollon via Getty Images

You're never supposed to order straight gin.

Holger Leue via Getty Images

Despite some haters, some countries really love their gin.

Soma Images/500px

Gin and tonics were invented to cure malaria.

Annabelle Breakey via Getty Images
Want to read more from HuffPost Taste? Follow us on Twitter, Facebook, Pinterest and Tumblr.