A retired Belizean boxer well-liked in his North Side Chicago neighborhood was killed Wednesday while protecting his teen daughter -- his only child -- during an alleged hate crime.
Michael Tingling, 59, was walking with his 15-year-old daughter, Masharah, in the city's Rogers Park neighborhood around 2 p.m. Wednesday when he noticed 59-year-old Joseph Firek eyeing the teen girl and making "inappropriate gestures," DNAinfo Chicago reports.
As Firek approached Masharah, Tingling intervened and the two men began arguing. Firek punched Tingling, who wears a pacemaker, in the chest while making racial epithets, police said according to the Sun-Times.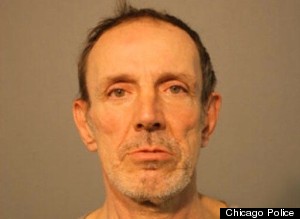 Joseph Firek, 59, is charged with first-degree murder and a hate crime.
Firek reportedly followed the Tinglings into the alley where Masharah said he called her and her father "n-----s" and told them to "go back to Africa," according to DNAinfo. After the elder Tingling started having trouble breathing, Masharah said Firek soon started repeating: "I hope he's OK. I hope I didn't kill him."
Tingling was taken to an area hospital where he was pronounced dead less than an hour later due to heart disease and from stress due to an altercation; his death was ruled a homicide, ABC Chicago reports.
Firek, who was arrested at the scene, was charged with first-degree murder and a hate crime and was ordered held on $250,000 bond. The Tribune reports Firek has a criminal record dating back to the mid-'90s and has had multiple stints in jail for crimes like residential burglary and retail theft.
SUBSCRIBE TO & FOLLOW BREAKING ALERTS
Don't miss out — be the first to know all the latest and breaking news. Learn more