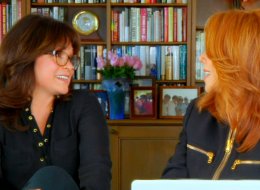 When asked about what it's like to work with the great Betty White, Hot In Cleveland actress Valerie Bertinelli had some great stories to share with us.
Valerie was nothing but complimentary of Betty's professional work and attention to detail. "She notices the littlest of things. She watches all the time," Valerie told us.
On the show, Betty often gives the other actors constructive feedback and advice based on her vast experience working in the industry, which the cast appreciates tremendously.
Betty, who just turned 92 this past January, also provides a great example of being positive.
"She chooses to be happy every day no matter what," Valerie told us. "I learn a lot from just watching her."
Get Valerie's latest book, "One Dish at a Time," here.
For more of Valerie's life and career, view the slideshow below:
Valerie Bertinelli has been acting for over three decades, becoming one of the most beloved faces on American television. She has also overcome personal struggles with both weight loss and a divorce, making her an inspiration to many women.

Bertinelli got her start in television on the hit series, "One Day At A Time," in which she played the role of Barbara Cooper Royer. Here, she smiles with cast members Mackenzie Phillips and Bonnie Franklin.

Bertinelli married iconic rock star Eddie Van Halen on April 11, 1981. Here, the pair leave a premiere in Los Angeles together shortly after they were married. The pair would go on to have a shaky relationship characterized by Eddie's drug addiction, which later led to divorce.

After her role in "One Day At A Time," Bertinelli became a pop culture icon and sensation, praised for her incredibly youthful appearance. Here, she poses in a striking red swimsuit for a 1982 photo shoot.

After "One Day at a Time," Bertinelli continued her acting career, starring in several made for TV movies, miniseries and sitcoms. In 2001, she signed on to play the role of Gloria in the television series, "Touched by an Angel."

By 2007, Bertinelli had been through several struggles with her weight and body image and was tipping the scales at 172 pounds. She decided to try Jenny Craig, and soon became a spokesperson for the weight loss program.

In addition to joining Jenny Craig, Bertinelli began exercising, incorporating walking into her daily routine as well as working with a personal trainer. By 2009, Bertinelli had lost 40 pounds. Here, she completes the Boston Marathon just days before her 50th birthday in 2010.

Here, 40 pounds slimmer, Bertinelli shows off her trimmed down figure while hosting friend and co-star Betty White's 89th Birthday Celebration in 2011.

In 2010, Valerie joined the star-studded cast of the TV sitcom, "Hot in Cleveland." The hit show also stars the legendary Betty White and William Shatner.

After her inspirational weight loss journey, Bertinelli became a Jenny Craig Brand Ambassador, participating in various charity events and benefits. Here, she leads off The American Heart Association Wall Street Run & Heart Walk in New York City in 2012.

After her divorce from Eddie Van Halen was finalized in 2007, Valerie found love again. In 2011, she married financial planner Tom Vitale. Here, she and Tom smile at the 2012 People's Choice Awards, where she won the award for Favorite Cable TV Comedy for her role in the hit show "Hot in Cleveland."

In her spare time, Valerie loves to cook and share her recipes with others. In 2012, she published her first cooking book, "One Dish At A Time." She has also appeared as a guest judge on The Food Network's hit show "Iron Chef America."

In 2012, Bertinelli was awarded an official Hollywood Star on the Hollywood Walk of Fame for her work as an actress. Here, she smiles with Betty White, Wendy Malick and Jane Leeves during the ceremony.

After overcoming her struggles with weight loss and a challenging public divorce, Valerie Bertinelli has become a role model and inspiration to other women. Here, she smiles alongside son and musician, Wolfgang Van Halen, in 2012.
Add Marlo On Facebook:
Follow Marlo on Twitter:

Weekly Newsletter

Sign up to receive my email newsletter each week - It will keep you up-to-date on upcoming articles, Mondays with Marlo guests, videos, and more!

Sign up here