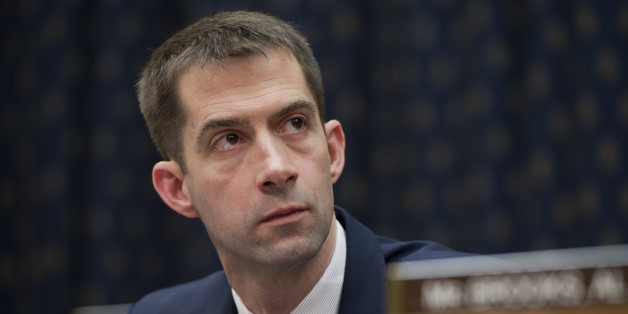 WASHINGTON -- In 1997, when freshman Rep. Tom Cotton (R-Ark.) was a bright junior at Harvard, he made a strong argument against the kind of dark money in politics that is now a primary fuel source in his campaign to unseat incumbent Democratic Sen. Mark Pryor.
Cotton, an apparently enthusiastic young Republican at the time, railed in The Harvard Crimson against the sorts of abuses he saw from the Clinton administration, including the infamous Lincoln Bedroom fundraising.
His solution? Deregulate campaign finance, but require full disclosure.
"The only real way to solve our current problems is to deregulate campaign financing. We should either sharply increase contribution limits or eliminate them altogether and couple this move with more extensive disclosure requirements," wrote Cotton in the op-ed. "When politicians do not feel pressured to maneuver around the law to raise money, they will not turn to their party or like-minded groups for stealth support. Such a move will also ensure that the public knows who is giving to whom and will thus judge for themselves the relevancy of those donations to their electoral choices."
Cotton noted that the Clinton fundraising was legal, but emphasized that it was unseemly.
Fast forward to 2014, and the problem Cotton was worried about has only gotten more pronounced. The Supreme Court's 2010 Citizens United ruling has set loose an ongoing flood of anonymous "dark money" in modern elections.
But now, Cotton is on the positive side of that ledger. According to Democratic estimates, more than $5 million in outside money has already poured into the race against Pryor. The Washington Post reported that some $1.4 million from the Koch brothers-backed Americans For Prosperity has gone toward ad buys in Arkansas this cycle. The Sunlight Foundation, which tracks both sides (using data from the FEC where there is disclosure), doesn't have the AFP cash, but does have some $2.5 million in spending about evenly split between the two candidates. Much of the cash for Cotton comes through the Club for Growth, which backed his House bid in 2012.
Judging from Cotton's old op-ed, one might imagine that he'd like to know -- and would like for the public to know -- who has donated all that money, and what they might want.
But like the money, the Cotton campaign was similarly dark when asked by The Huffington Post Monday if the congressman still had the same views.
If he did, he might consider backing the Senate's DISCLOSE Act, which doesn't undo the Supreme Court's Citizen's United ruling, but does require disclosure of donations above $10,000, setting up a system rather like the one Cotton advocated as a student.
Republicans in the Senate filibustered that bill, so Cotton likely would have been with them.
But here's how the younger Cotton summed up his thoughts on letting Americans know who was buying their political campaigns: "A deregulated system will eliminate practically all the incentives to break even the spirit of the law. This will in turn reduce the unseemliness in campaign financing and expose the remainder of it to more sunshine. Only then will we fully curtail the power of the most inextricable force in politics, the ambition of politicians."
Michael McAuliff covers Congress and politics for The Huffington Post. Talk to him on Facebook.
Also on HuffPost:
Conservatives Pointing Fingers
SUBSCRIBE AND FOLLOW
Get top stories and blog posts emailed to me each day. Newsletters may offer personalized content or advertisements.
Learn more