She may be tiny, but 18-month-old Aspen is already cruisin' on the slopes.
Mom Jill Haight used to snowboard competitively, so when it came time to teach her then 10-month-old daughter a winter sport, she and her husband chose to put their baby on a board, not skis. "We are from Breckenridge, Colorado, so living in a ski town it just a seemed natural to get Aspen out on the mountain as soon as she could walk," mom told The Huffington Post in an email.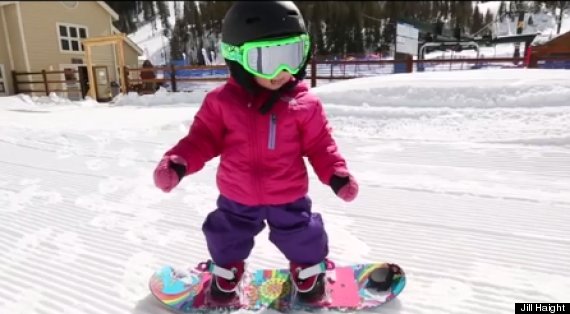 "Burton Snowboards, the largest snowboard company in the world, gave her 2015 mini boots to test the smallest boots in the world," said Haight. And she's put them to good use, which makes sense for someone named after a famous ski and board town.
"She really enjoys being out in the snow and riding," said Haight. "And I see [her name] fitting more and more every day when I can't get her to come inside!"
SUBSCRIBE AND FOLLOW
Get top stories and blog posts emailed to me each day. Newsletters may offer personalized content or advertisements.
Learn more