As if beer and bacon-on- a- stick weren't enough to get you to a Chicago White Sox baseball game this spring, we have a three-pound banana split sundae that might convince you otherwise. That's right -- THREE POUNDS.
Served in a full-sized batting helmet (because how else would you serve it?) this sundae starts with a Napoleon base of ice cream flavors -- vanilla, chocolate, and strawberry. It has 12 scoops total, and comes with all of the typical sundae trappings. Although the banana-split is intended for families, there will be a prize for the first person to finish it by themselves.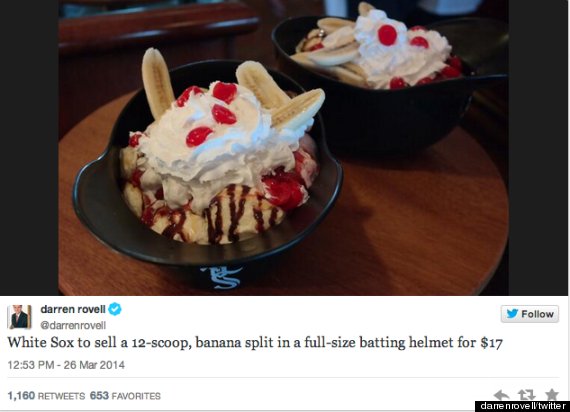 But the best part about this incredible treat? It's probably your best bargain at the ballgame, coming in at a budget-friendly $17. Darren Rovell, ESPN's resident ice cream-eater, described the banana split as somewhere "north of 4 or 5,000 calories." Rovell thinks stadium desserts "have a long way to go until they reach perfection at stadiums," but this seems to be a step in the right direction.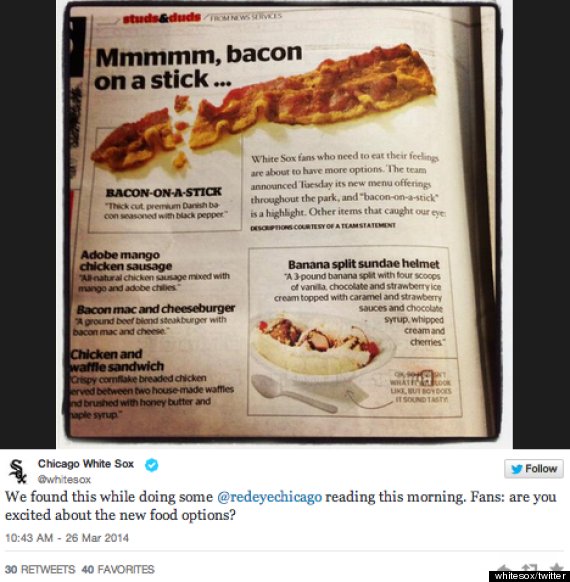 Brooks Boyer, the White Sox senior vice president of sales and marketing, sees the helmet holding the banana split as something "people will go home with and remember their time at the ballpark." We're all about making sticky memories, but that helmet would need some serious scrubbing.
Want to read more from HuffPost Taste? Follow us on Twitter, Facebook, Pinterest and Tumblr.
PHOTO GALLERIES
Crazy Foods