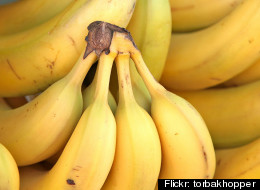 We're going to just get straight to it: bananas are amazing and artificial banana flavoring is an abomination against taste buds everywhere. Banana flavoring is something we will just never understand -- it's even worse than artificial grape.
Banana-flavored things do not taste like banana. Will anyone argue that point? In fact, if there is someone out there who thinks they taste the same, we'd love to talk to you. You sound very interesting and mostly confusing.
Bananas have given us a lot. They are responsible for so many delicious things. (We're not even going to get into their contributions to bread-baking, smoothie making and quick breakfast-solving.) And what have we done to repay them? Represented them in the worst possible way.
We present you with the 14 most heinous crimes against the banana:
Imitation Banana Extract

Amazon

Banana Runts

Imgur

Top Banana Jelly Bellys

Amazon

Banana Nesquik

Amazon

Banana Laffy Taffy

Amazon

Banana Laffy Taffy Ropes

Amazon

99 Bananas

Gates Circle Wines & Liquor

Banana Popsicles

popsicle.com

Banana Sno Cone Syrup

Amazon

Banana Twinkies

Flickr: tengrrl

Banana Bread Beer

Flickr: Blyzz

Bananas Foster Flavored Coffee

Amazon

Barratt Shrimps And Bananas

Amazon

Cola Lacaye Banana Soda

Amazon
Want to read more from HuffPost Taste? Follow us on Twitter, Facebook, Pinterest and Tumblr.