Simple Trick To Lose 10 Pounds In One Year, From David Zinczenko (VIDEO)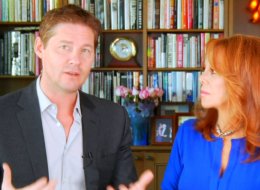 David Zinczenko, author of Eat It To Beat It!, shared some simple, practical tips with us for healthy weight loss.

"Find the best source of all of your favorite foods, and try to be mindful of the calories you consume," David advised.

"If you can cut 100 calories each day from your diet, you could lose 10 pounds over the course of a year! Small changes in calorie intake make big changes in your waistline and health," he said.

Even if you have a constant sweet tooth, David recommends looking for the absolute best sources for sweet options. For cookies, David specifically recommends Kashi brand's dark chocolate oatmeal variety as a healthier option.
For more of David's healthy living tips, view the slideshow below:
Healthy Eating Tips From David Zinczenko
A study printed in the journal Personality and Social Psychology Bulletin revealed that moviegoers grabbed a smaller amount of popcorn when doing so with their non-dominant hand. David tested this theory earlier this year with the ABC World News team and came to the same conclusion: Eating with your non-dominant hand makes you think about what you're doing, and may help you snack less…without going snackless!

Resist the urge to eat or drink while you watch the tube or check your email. Research published in the American Journal of Clinical Nutrition shows that people who eat while distracted consume 10 percent more in one sitting than they would otherwise.

Eating an appetizer -- such as a broth-based soup or even an apple -- can reduce your total caloric intake over the course of the meal by up to 20 percent, according to a series of "Volumetrics" studies at Penn State.

Keep healthy -- and save money! -- by spending more time in the frozen produce aisle of your local supermarket. Research shows that frozen fruits and veggies, which are picked and prepped at their prime, can be even more nutritious than the fresh stuff. Just steer clear of anything with added sugar, syrup or sauces.

An astonishing 70% of our calories come from processed foods, according to research presented at the 20th International Congress of Nutrition. You can start to turn that statistic around by being more discriminating in the dairy aisle. Ready-grated cheese is convenient, but it almost always costs more than cheese sold in blocks. Moreover, shredded cheese is more processed and contains the anti-caking additive cellulose—what we know as wood pulp.

Meet piperine, the fat-blasting ninja! Recent animal studies have found that piperine -- the compound that gives pepper its distinct taste -- may also have the unique ability to interfere with the formation of new fat cells (a reaction known as adipogenesis), resulting in a decrease in waist size, body fat, and cholesterol levels.

The yellow blocks of foam we often find in breakfast sandwiches aren't real eggs at all, but this creepy thing called "egg blend," which has an ingredient list that reads like a hairspray bottle and often includes Propylene glycol, a solvent also found in antifreeze. The good news is that you can often order a real egg, just by asking. At McDonalds, request a "round egg" with your order; the real-egg cue for Denny's servers is "cracked on the grill." You'll have to try your luck at other establishments, but it's worth a shot.

Choosing a non-fat salad dressing might save you calories, but you'll miss out on the fat-soluble nutrients found in vegetables. According to a Purdue University study, as little as 3 grams of monounsaturated fat can help the body absorb carotenoids -- those magic molecules in vegetables that protect you from chronic disease. Get the most from your salad with a tablespoon of olive-oil based vinaigrette.

Good news for carb-lovers: A series of studies published in the American Journal of Clinical Nutrition found that adding a heaping teaspoon of cinnamon to a starchy meal (like your morning oats) may help stabilize blood sugar and ward off insulin spikes that can lead to hunger, cravings and weight gain.

The best 100-calorie snacks provide at least 4 grams of protein, which requires more energy to burn than carbs or fats and thus keeps you fuller longer. Click here for David's top 10 low-calorie snacks that actually satisfy hunger. David Zinczenko, ABC News nutrition and wellness editor, is a New York Times No. 1 bestselling author. The daily newsletter for his latest book, "Eat It to Beat It!" is full of food swaps, meal plans and the latest food controversies. Sign up today!
Add Marlo On Facebook:
Follow Marlo on Twitter:

Weekly Newsletter

Sign up to receive my email newsletter each week - It will keep you up-to-date on upcoming articles, Mondays with Marlo guests, videos, and more!

Sign up here