15 Food Instagram Accounts You Should Be Following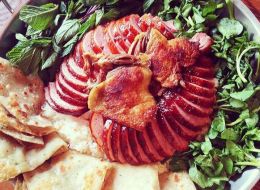 We thank Instagram everyday for giving us exactly what we've always wanted: a whole lot of food photography. Even after we have had it with pictures of cute babies holding kittens, we can still happily look at hundreds of images of cake. (This is not an exaggeration.) For some reason, food photos never get old. But bad food photography does. Right away.
On Instagram, you can come across some really sad food photography. But that's why we're here -- to help you guys find the best food porn Instagram has to offer. Here are our 15 favorites. If you've got any recommendations, please let us know in the comments below. We can never get enough.
Ashley Rodriguez

ashrod

Spoon Fork Bacon

spoonforkbacon

Dominique Ansel

dominiqueansel

Craig Deihl

cdeihl

Blue Bottle

Bluebottle

April Bloomfield

April Bloomfield

Diane Cu

Diane Cu

Tartine Bakery

Tartine Bakery

Julie's Kitchen

Julie's Kitchen

Marcus Nilsson

Marcus Nilsson

Food52

Food52

Nicole Franzen

Nicole Franzen

Jamie Oliver

Jamie Oliver

Alice Gao

Alice Gao

HuffPost Taste

huffposttaste
Want to read more from HuffPost Taste? Follow us on Twitter, Facebook, Pinterest and Tumblr.