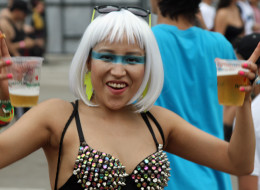 After attending the three-day Ultra Music Festival this weekend, we have now seen it all -- including more human flesh than we could possibly capture.
The 16th annual EDM extravaganza in Miami's Bayfront Park -- no trip to the desert necessary, this party is right downtown -- drew the likes of Afrojack, Above & Beyond, Kaskade, Armin Van Buuren, Diplo and more, along with party people from around the globe. We spotted ravers from Japan, dancing bros from Britain, and a whole gaggle of Australians, plus fans from the U.S.A. sporting the stars and stripes on bikini tops and Speedos and strange cut-out pants. In one direction was the Magic City's glistening skyline; in the other, gorgeous Biscayne Bay.
Miami, of course, knows how to party. And it knows how to host one. With some 160,000 people hitting seven stages for everything from trance to Beyonce remixes, it takes a small army to pull off such a massive festival and we have to say, things ran incredibly smoothly inside Ultra despite the threat of Saturday rain and a last-minute gallbladder surgery for headlining artist Avicii, who was replaced by DeadMau5. A music festival miracle: even the food looked amazing.
Sadly, this year's festival was marred by a terrible tragedy on Friday night when a group of people without tickets trampled and seriously injured a security guard. City officials have already said they will open talks to deny permits to Ultra next year; while we wait to see how that shakes out -- and we hope the guard, who is in critical but stable condition after suffering a broken leg and head trauma, gets well soon -- we present to you all the people we loved at Ultra this year, from candy-coated Unicorn-loving ravers to hippies in silk to at least one man in a full suit and tie.
What ties them all together? Inhibitions in the wind, these are the folks who straight up went for it and brought amazing energy to Ultra. But be warned: some of these outfits are NSFW, unless you work in a pasties factory.
Ah, Spring! That magical time of year when a young person's fancy turns to Ultra -- and all the wild costumes and dance gear you can possibly imagine.

Some of it's practical -- and practically nothing -- which makes sense for the Miami heat and humidity.

Other looks, not so much. Like stilettos on mulch.

And prints, as in as many as possible, and preferably one in the form of a sheer silk jacket.

He also created naps.

It's impossibly to be in a bad mood at Ultra.

See? Infectious.

One reason? People come from literally all over the world to get together and dance in Downtown Miami.

These wild and crazy guys flew in from Japan with matching Miami-appropriate shorts.

Others were fresh from the farm.

Others befuddled us, but to each their own! Do you, Scantily-Clad American Jesus Man.

One tip for 3-day festival survival and enjoyment? "Research what you do before you do it, and rave safe," said Kristina Fernandez, left, of Miami.

Glitter, too, is crucial.

There's a bit of everything at Ultra, from ravers...

... to a sharp-dressed man in a full suit and tie (How is he not sweating?)...

... to flower power.

There's also the occasional elaborate updo, which we suspect lasted about 10 minutes once this festival-goer hit the main stage area.

One way to keep cool: a top knot and coconuts.

More daring methods include pasties...

...and rear ventilation.

There's always a few folks in full-body spandex.

Or, say, a super chill banana.

But most folks air it out.

Unicorns!

(You can, of course, dress totally "normal.")

(But why bother?)

One of the amazing things about Ultra is that it happens right in the downtown area of a major U.S. city -- no trip to the desert necessary!

Things you don't typically see on Biscayne Biscayne Boulevard!

Street style is a trip at Ultra.

Flamingo-print shorts are always a nice nod to Miami.

The ultimate YOLO ensemble.

The main stage gets bigger every year.

As do the eyelashes!

The stars and strips are a common theme.

See?

USA! USA!

We're pretty sure these shorts are only there to serve as a place to hold a phone.

Requisite Molly shirt!

We have just one question: how did the shirtless guy get a whole pineapple?

There are seven major stages at Ultra; we found Nemo at the Ultra Worldwide stage.

No one out-costumed the ladies of Basement Jaxx at the Live Stage.

Not even you, mister! "Stay hydrated" and "skip the line if possible" were two pieces of advice we got from these Florida bros.

This sign traveled all the way from California.

While these ladies flew in from Japan.

The men of Ultra (is this a Tumblr yet?) were all about that floral print.

Though they were saving their light up gloves for later, apparently.

Some ladies, of course, have nowhere to store such things.

Here's a flying dinosaur roaming Biscayne, because

So many Brits!

And butts.

This one was "under rated."

In fact, there's so much booty at Ultra that when we accidentally snapped a photo of nothing while walking, our camera captured another one.

Some clothing items at Ultra are utilitarian.

For example, if stranded, this reveler could survive for days by eating her top.

This guy could float!

We spotted Afrobeta's Cuci Amador dancing at the main stage in an amazing feathered costume.

And also this guy, who has many raves under his rainbow belt.

Yoopers! That's like 8 million points on Ultra Bingo.

Raver Disney Princesses is also a solid get.

Another major theme: nautical.

This partier was repping Venezuela hard...

... while the Aussies brought props. Nearby, we spotted a shirt reading "Asians Love Bass."

This guy was mad for Florida -- check out those shorts!

Just like Fred and Ginger!

We have no answers for this. Only seared retinas.

One trend we don't recommend: sunburn. Ouch, bro!

"Talk to everybody, because everybody loves you here," advised Lauren from Sarasota.

Top that bay view, Coachella!