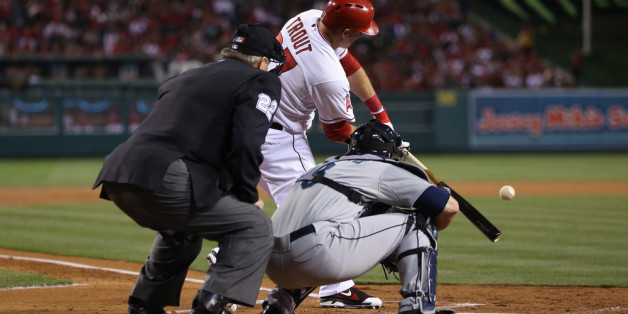 Mike Trout did exactly what the game's best player should do in his first at-bat of the 2014 season: The Los Angeles Angels' superstar crushed a two-run home run off Seattle Mariners ace Felix Hernandez.
With a man on base in the first inning, Trout worked the count to a ball and a strike. Then, he launched an 84-mph slider off Hernandez and over the left field wall to give the Angels a 2-0 lead. The homer came just two days after he signed a $144.5 million, six-year contract extension with the Angels.
Perhaps not surprisingly, Angels fans got the "M-V-P" chant started early the next time Trout stepped up to the plate.
Angels fans wasting no time, start an M-V-P chant for Trout as he steps up for his second at-bat.
SUBSCRIBE AND FOLLOW
Get top stories and blog posts emailed to me each day. Newsletters may offer personalized content or advertisements.
Learn more