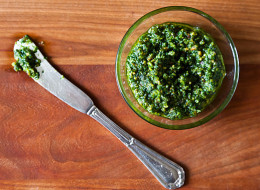 Nothing says spring quite like fresh mint. Its flavor embodies everything of this blooming season -- light, fresh and bright. Its light green color livens up our plates, especially after all the months we've spent looking at winter produce. Besides being chocolate's best friend, mint is perfect in lemonades, teas and cocktails. But we also really love cooking with this fresh herb.
Throwing fresh mint into a salad will wake up the flavors, and adding it to a pasta can make the dish feel much, much fresher. We're always looking for ways to throw mint into whatever we're making. From Orecchiette with Pancetta, Peas and Mint to a simple Spring Peas with Mint recipe, there's a recipe for every mint lover.
Here are 25 mint recipes to try this spring:
Lacinato Kale and Mint Salad with Spicy Peanut Dressing

dymyno from Food52

Spicy Brussels Sprouts With Mint

Gabriele Stabile/Food&Wine

Warm Rice Salad With Peas And Mint

Lara Ferroni

Orecchiette With Pancetta, Peas And Fresh Herbs

Quentin Bacon/Food&Wine

Mint-Pistachio Pesto

em-i-lis from Food52

Grilled Eggplant & Zucchini Salad Recipe with Feta, Chickpeas & Mint

Cookin Canuck

Herb-And-Endive Salad With Creamy Lime Dressing

Tina Rupp/Food&Wine

Roasted Mushrooms And Shallots With Fresh Herbs

Stephanie Foley/Food&Wine

Rice-Noodle Salad With Chicken And Herbs

Quentin Bacon/Food&Wine

Thai Crab-And-Green-Mango Salad

John Kernick/Food&Wine

Curried Tofu-And-Avocado Dip With Rosemary Pita Chip

Hallie Burton/Food&Wine

Ginger Beef Salad

Yunhee Kim/Food&Wine

Soba Salad with Marinated Tofu, Mint & Scallions

Alexandra Cooks

Spring Peas With Mint

John Kernick/Food&Wine

White Butter Bean, Feta And Za'atar Spread

Jonathan Lovekin

Chicken Breasts With Potatoes And Mashed Peas

Dana Gallagher/Food&Wine

Roasted Delicata Squash With Quinoa Salad

John Kernick/Food&Wine

Grilled Lamb with Eggplant, Mint, and Feta

Amanda Hesser from Food52

Sauteed Mahimahi With Cucumber Mint Yogurt Sauce

New Media Publishing

Cheese-Topped Guacamole

Quentin Bacon/Food&Wine

Warm Artichoke And Goat Cheese Souffles In Endive Leaves

New Media Publishing

Summer Squash Couscous with Sultanas, Pistachios and Mint

The Internet Cooking Princess via Food52

Mint and Tuna Salad

Manger

Slow-Roasted Lamb Shoulder With Almond-Mint Pesto

John Kernick/Food&Wine

Asparagus, Lemon and Mint Risotto

Cook Sister
Want to read more from HuffPost Taste? Follow us on Twitter, Facebook, Pinterest and Tumblr.