The Rhubarb Recipes You've Been Waiting For All Year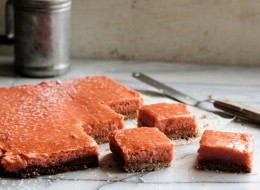 Don't let rhubarb's resemblance to celery fool you. This spring vegetable's likeness to that water-filled green stalk ends with its looks -- and its differences shine in recipes like pie, ice cream and crumbles.
Rhubarb is the crowning glory of spring's fresh produce -- mostly because in some parts of the country it's the only fresh ingredient for dessert that spring has to offer. While Rhubarb is technically a vegetable, it prefers to be treated as a fruit. When you add a little sugar to it, rhubarb responds by tasting just as sweet as any summer berry. Spring just wouldn't feel as darling without these rhubarb recipes.
Rhubarb Custard Tart

Pastry Affair

Rhubarb Toaster Strudel

A Beautiful Mess

Dutch Babies With Poached Rhubarb Sauce

Sara Remington

Rhubarb And Orange Blossom Cake

Delicious Everyday

Rhubarb Ginger Muffins

Pastry Affair

Rhubarb And Rose Ramos Gin Fizz

James Ransom/Food52

Individual Apple & Rhubarb Pies

Delicious Everyday

Vanilla Bean Rhubarb & Ginger Scone

Brown Eyed Baker

Rhubarb Buckle

Alexandra Cooks

Rhubarb Ginger Bars

Pastry Affair

Sparkling Rhubarb Lemonade

James Ransom/Food52

Eton Mess With Rhubarb-Gin Jam And Lemon-Basil Meringue

cristinasciarra/Food52

Strawberry Rhubarb Crisp

Pippa Riley/Food52

Raspberry Rhubarb Tapioca Pudding

Tartelette

Rhubarb Custard Tea Cake

eat, little bird

Rhubarb Float

Our Seasonal Table

Rhubarb Gin & Tonic

SippitySup

Rhubarb Vanilla Pound Cake

Pastry Affair

Rhubarb Cherry Hibiscus Crumble

James Ransom/Food52

Strawberry Rhubarb Baked French Toast

Two Peas and their Pod

Rhubarb Ice Cream

nettleandquince/Food52

Honey Roasted Rhubarb

Two Peas and their Pod

Rhubarb Cosmo

NakedBeet/Food52

Rice Pudding With Poached Rhubarb

Con Poulos/Food & Wine

Meringue Nests With Roasted Rhubarb And Strawberry Sauce

New Media Publishing

Rhubarb Tartlets

Taste
Want to read more from HuffPost Taste? Follow us on Twitter, Facebook, Pinterest and Tumblr.