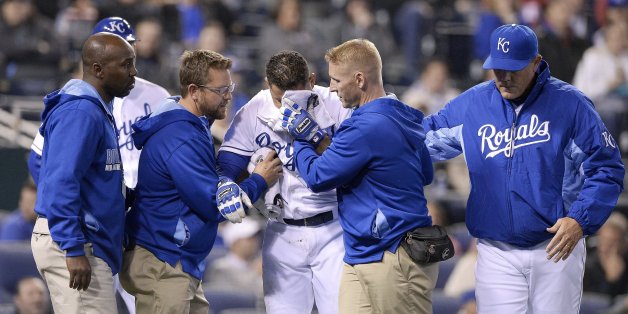 One of the scariest things that can happen to a baseball player happened to Kansas City Royals second baseman Omar Infante on Monday night. In the bottom of the seventh inning, Infante got hit in the head by a pitch.
An 89-mph change-up from Tampa Bay Rays reliever Heath Bell caught the 32-year-old infielder on the chin. After falling to the ground, Infante was able to get back to his feet. He was eventually helped off the field by a Royals trainer while holding a towel against his face.
"My prayers go out to him. I went and asked the umpire how bad did I get him, what did he see. He said it got him on the chin pretty good. I was just happy it wasn't the eye. You know I've played against and with Omar for the last 10, 15 years. I hope he has a speedy recovery," Bell said after the game.
Tests on @Royals 2B Omar Infante reveal he suffered a non-concussive head injury when he was struck by a pitch last night.
Infante received 6 stitches, has sprained right jaw. He will be evaluated over next 48 hours; it does not appear he'll miss extended time.
SUBSCRIBE AND FOLLOW
Get top stories and blog posts emailed to me each day. Newsletters may offer personalized content or advertisements.
Learn more