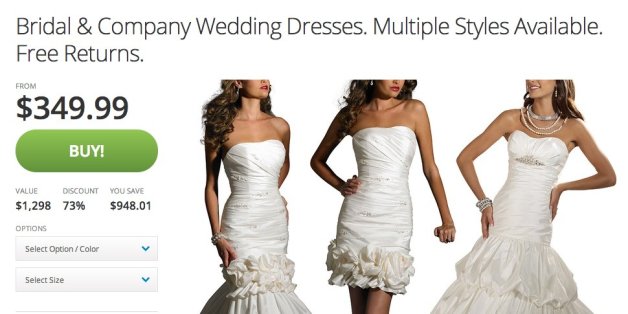 Budget-minded brides and grooms have a new one-stop shop for virtually everything related to their nuptials: Groupon.
"What was pretty amazing to us was not just the velocity that we saw but also the fact that consumers were talking about it," Lisa Kennedy, Groupon's vice president and general manager of fashion and apparel told CNBC. "From there we said, 'How can we make this better?'"
Like all Groupon offers, the Wedding Shop is for a limited time only -- with some offers expiring before the Wedding Shop is shuttered. The online pop-up shop is set to close April 16.
Also on HuffPost:
Biggest Wedding Planning Mistakes
SUBSCRIBE AND FOLLOW
Get top stories and blog posts emailed to me each day. Newsletters may offer personalized content or advertisements.
Learn more