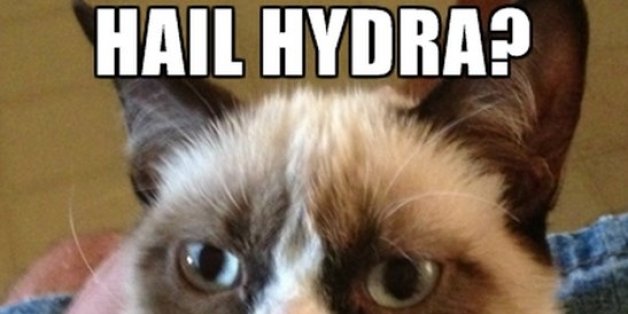 Hail Hydra is the newest meme to hit the web, stemming from its use in the box-office smash "Captain America: The Winter Soldier." Viral doesn't even begin to describe the velocity with which it took off; any picture of people whispering or embracing could become the latest in a long line of memes captioned with "Hail Hydra."
However, some on the web have decided that this joke has gotten out of hand and are fighting fire with fire. From Grumpy Cat to Neil deGrasse Tyson, people are using their favorite memes to mock or express their loathing of the new go-to meme. (So meta.) The move is an clever way to express contempt in an appealing way, but it may not be enough to cut through the overabundant use of "Hail Hydra." Below are just a few examples of the many memes employed against the popular, well, meme.
Also on HuffPost:
"Captain America: The Winter Soldier" Photos
SUBSCRIBE AND FOLLOW
Get top stories and blog posts emailed to me each day. Newsletters may offer personalized content or advertisements.
Learn more