The stock market got completely kerslammered on Thursday, and the kerslammering might not be done.
The punishment started on the Nasdaq, which sank 3.1 percent, its worst day since November 2011. The selloff metastasized and took down the Dow Jones Industrial Average, which fell 1.6 percent, and the Standard & Poor's 500-stock index, which fell 2.1 percent. Here's a look at the day's trading in the Nasdaq, courtesy of Yahoo Finance: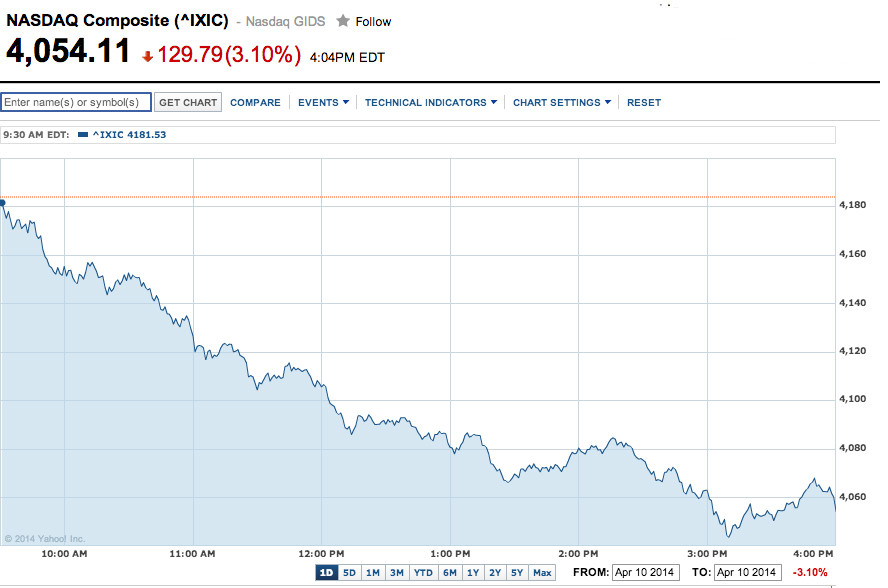 Update: The Nasdaq tumbled again on Friday, closing below 4,000 for the first time since February 3. It fell 1.3 percent on the day. It's down 8 percent from its peak on March 5. Here's a longer-term view of the Nasdaq, courtesy of Google Finance: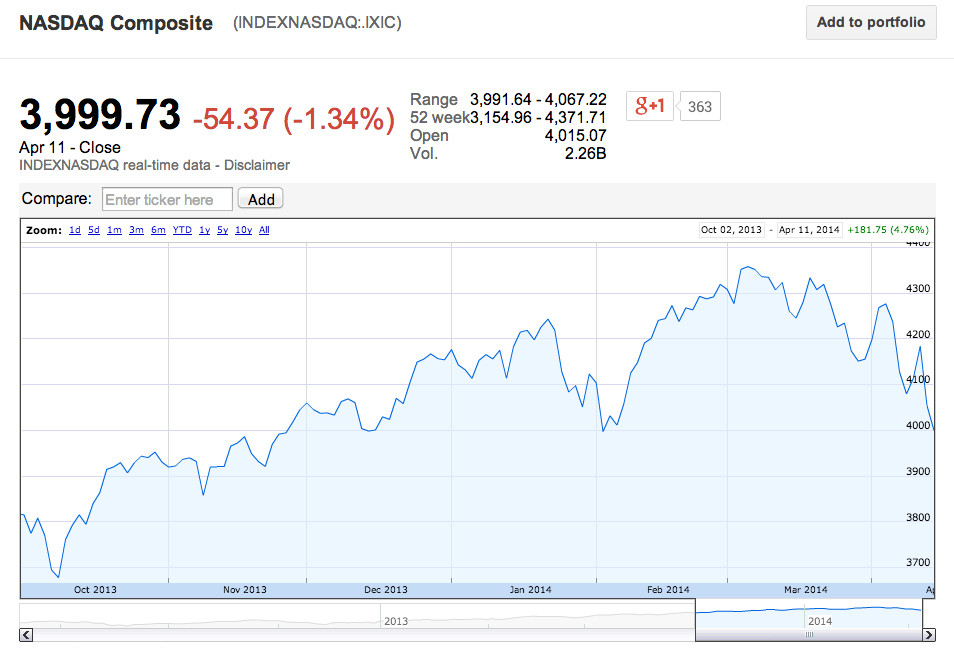 There's been lots of yammering in the market for a while now about how tech stocks are in a bubble that is due for bursting, and we could be witnessing the start of that. Funny enough, tech stocks actually weren't the worst performers in the Nasdaq on Thursday. That unwelcome honor went to biotechnology stocks: The Nasdaq Biotech index was bulldozed 5.6 percent.
Thursday's rout was the resumption of one that started about a month ago, but has picked up speed lately, sending investors scurrying for safe havens like Treasury bonds. The Nasdaq has lost 8 percent in that time, led by former high-flying stocks like Facebook, Google and Tesla. The big debate now is whether this is The Big One, the long-awaited correction to a bull market that has been carrying on with only minor interruptions since March 2009. Or maybe something worse, something crash-ier.
Or maybe it's just temporary agita about the Federal Reserve's long-stated desire to stop pumping quite so much cocaine into the financial system, along with the start of corporate-earnings season, which is not expected to be very good. A near-record number of companies have warned of disappointing profits in the first quarter, according to data tracker FactSet.
SUBSCRIBE AND FOLLOW
Get top stories and blog posts emailed to me each day. Newsletters may offer personalized content or advertisements.
Learn more