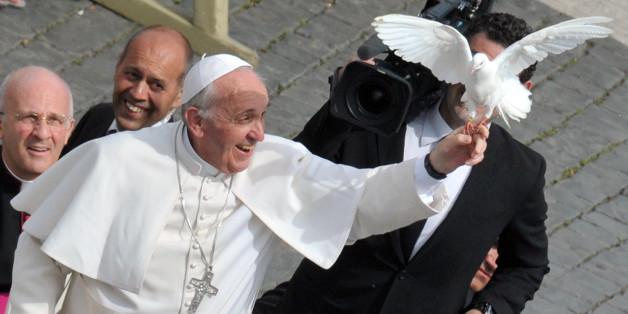 TIZIANA FABI via Getty Images One of the peace doves is attacked by a crow on Jan. 26
Think the news sounds a little strange? Well, you're definitely onto something.
"That was a made up piece; it was a big joke," Monsignor Paul Tighe, the Vatican's secretary of social communication, told The Huffington Post. "It's a tradition around here for people to run hoax stories in the paper the first week of April."
It's understandable why some news outlets fell for the joke; a made-up statement published in the Independent Catholic News does seem pretty convincing:
"[The hawk's] mere presence should act as a deterrent to any more attacks such as the one which took place in January," a Vatican spokesman "told" the outlet. "In addition however, she will act as an escort and protector to the peace doves after the ceremonies, accompanying the birds when they fly home from Saint Peter's to their aviary, which is about one and a half a kilometers from the Vatican."
Doves are often considered a symbol of peace because of the biblical story of Noah. A dove brings an olive branch to Noah to show that there is dry land nearby -- a sign that the great flood was letting up, National Geographic notes.
FOLLOW HUFFPOST