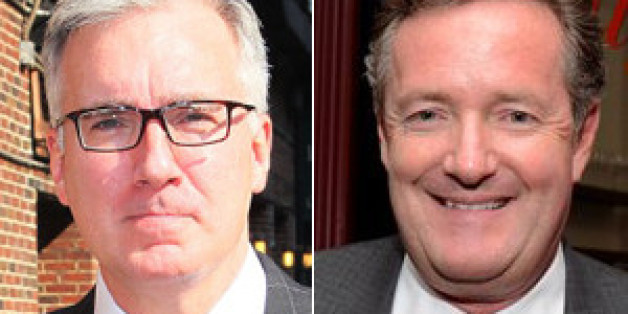 Keith Olbermann and Piers Morgan are battling each other on Twitter yet again.
In the past, Olbermann and Morgan have jabbed each other over everything from the British phone hacking scandal, Olbermann's Current TV ratings and Morgan's infamous interview with Christine O'Donnell. Their most recent spat on Thursday revived an old tradition between the two media personalities.
Morgan was trading barbs with Sports Illustrated's Richard Deitsch, who insulted Morgan's involvement with Fox Sport's FA Cup coverage ("This is why soccer fans don't trust Fox w/ the World Cup," Deitsch tweeted).
Olbermann couldn't resist chiming in when Morgan tweeted back: "Been trying to find out who you are @richarddeitsch - but you don't seem to have a Wikipedia entry. Surely you're not THAT insignificant?"
Not sure mate, but I'm sure I'll find the one you fell off eventually > RT @KeithOlbermann How many cliffs can you find to walk off, Morgan?
He added, in response to one tweeter,
Yes, I would have contributed a third tweet about @PiersMorgan but I have a nightly television show on @espn that I had to do.
SUBSCRIBE AND FOLLOW
Get top stories and blog posts emailed to me each day. Newsletters may offer personalized content or advertisements.
Learn more