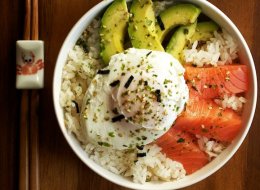 There are days when dinner has to be easy -- like Monday through Friday, every week out of the year. There's nothing that we want to do less after a long day of work than start chopping vegetables far long before we get to even think about eating. And then, dishes.
As much as we love to cook, most weeknights need simple meals. That's why we love rice bowls.
Rice bowls are the answer when you only have a couple of ingredients in your fridge and can't handle the thought of going to the store. Or when you're so hungry and tired that you need to put food in your mouth in no less than ten minutes. (The key? A little advanced planning by pre-cooking your rice ahead of time.) Somehow, rice served in a bowl is the unifying factor of that half a cucumber, couple of carrots and leftover chicken wasting away in the fridge -- and it all comes together in minutes. Rice bowls are the answer to your dinner problem.
Mexican Fiesta Rice Bowls

The Realistic Nutritionaist

Spicy Tahini Chicken, Stir-fried Mushroom And Asparagus Rice Bowl

Home Skillet

Vegetarian Coconut Rice Bowls

Bev Cooks

Express Egg Rice

Beyond Kimchee

Chicken Enchilada Rice Bowls

This Gal Cooks

Tuna Avocado Rice Bowl

Humblebean/Food52

Asian Rice Bowl With Fresh Vegetables

A Couple Cooks

Black Beans, Avocado & Cilantro Dressing Rice Bowl

Cookin' Canuck

Mushroom Rice Bowl with Meat Sauce

Beyond Kimchee

Quinoa Burrito Bowl

A Beautiful Mess

Salmon Sashimi Rice Bowl

Set The Table

Korean Beef Rice Bowl

Steamy Kitchen
Want to read more from HuffPost Taste? Follow us on Twitter, Facebook, Pinterest and Tumblr.