15 Different, Delicious Ways To Interpret Greek Salad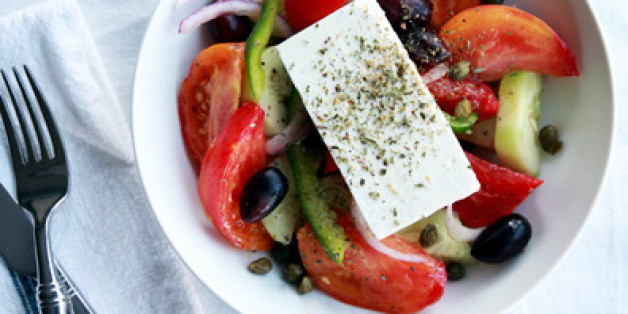 Perpetually Chic
There's a lot to love about Greek food -- all those filo pastries, for one -- but mostly, it's the salads that are so special. One salad in particular, the one we lovingly refer to as the Greek salad (and what the Greeks call Horiatiki Salata), has captured our hearts and stomachs. And it's easy to understand why: it's full of tomatoes, cucumbers, olives and FETA.
There's no wrong way to eat a Greek salad, and no limit to the number of ways you can do it, either. Greek salad is great on pizza, in pasta and as grilled cheese sandwiches, too. Pretty much everything can be given a "Greek salad" treatment. See for yourself:
1

Quinoa Greek Salad with Tomatoes, Cucumber & Feta Cheese

Cookin' Canuck

Simply Recipes

3

Greek Salad Grilled Cheese

Ruffles and Truffles

Two Peas and their Pod

5

Greek Salad With Chicken And Feta Croquettes

Annie's Eats

The Girl Who Ate Everything

Foodie Crush

8

Traditional Greek Salad (Horiatiki Salata)

Perpetually Chic

9

Greek Salad Tacos with Cucumber Dill Dressing

The Creativity Exchange

10

Greek Potato Salad With Feta Cheese, Kalamata Olives & Oregano Dressing

Cookin' Canuck

11

Greek Lemon Pasta Salad

Foodie Crush

12

Greek Salad With Fennel

Food52

Meals Full Of Color

14

Smashed Chickpea Greek Salad Sandwich

Two Peas and their Pod

Macheesmo
Want to read more from HuffPost Taste? Follow us on Twitter, Facebook, Pinterest and Tumblr.