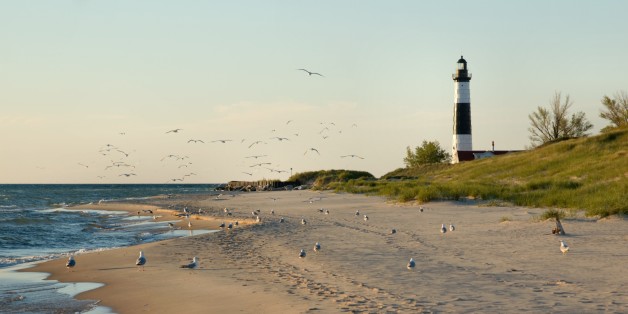 Three bikers riding on a remote Lake Michigan beach never expected to come across a dead body -- so when they did, they weren't even sure that's what they had found.
The cyclists were three miles north of Big Sable Point Lighthouse in Ludington, Mich. Tuesday around 7 p.m. when they saw something in the sand, according to the Ludington Daily News. At first, the trio thought they had found a mannequin.
"It was so weathered we thought and debated whether it was real," Brian Monton, one of the bikers, told the Daily News.
Mason County authorities told WZZM-13 that the body they discovered was a 6-foot-tall man. According to the Mason County Press, the deceased was found about 70 feet from the water line and, because of the level of deterioration, appeared to have been there, frozen, for several months.
Undersheriff Jody Harltey told the Mason County Press that the individual was found unclothed except for shoes and socks, which led them to believe he may have been camping nearby, rather than found there after washing up on shore from the lake.
An autopsy was scheduled for Wednesday morning. Authorities are contacting communities surrounding the lake in Michigan, Wisconsin, Illinois and Indiana to determine if there are missing persons, according to MLive.

ALSO ON HUFFPOST:
PHOTO GALLERY
BEFORE YOU GO
Cold Cases