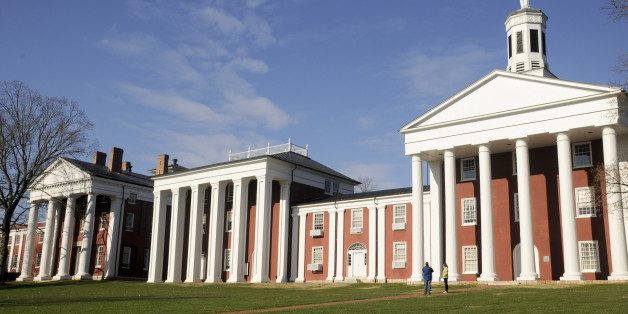 Washington & Lee University President Ken Ruscio promised Wednesday to meet with a group of students who demanded the school remove all confederate flags from campus and begin to cancel classes for undergraduates on Martin Luther King, Jr. Day.
The president was responding to demands issued by a group of 12 W&L Law students, collectively known as The Committee, that were sent to the administration and members of the Board of Trustees.
Ruscio said in a campuswide letter he asked Provost Daniel Wubah to schedule a meeting with the law students who issued the demands, and to meet with the University Committee on Inclusiveness and Campus Climate, which was designed to address diversity concerns.
"Throughout this year, UCICC and the Office of Student Affairs have been holding focus groups with students to discuss some of the very issues that the law students are raising," Ruscio said.
Students issued four demands, promising to engage in civil disobedience if they were not met by September 2014:
1. We demand that the University fully recognize Martin Luther King, Jr. Day on the undergraduate campus.
2. We demand that the University stop allowing neo-confederates to march on campus with confederate flags on Lee-Jackson Day.
3. We demand that the University immediately remove all confederate flags from its property and premises, including those flags located within Lee Chapel.
4. We demand that the University issue an official apology for the University's participation in chattel slavery, including a denunciation of General Robert E. Lee's participation in slavery.
We expect that from these immediate actions, a long-term, continued commitment to improving the state of racial justice and honor on campus will develop. We believe the student body is eager to learn about, work toward and directly confront both the past and current bigotry and racial discrimination found on our campus. We are confident that when these de-mands are met, our University will be one step closer to achieving a community that welcomes students of color and frees them from the psychological shackles that currently exist. We are eager to turn our campus into a shining example—a beacon of hope—for not only the town of Lexington, the Commonwealth of Virginia, and the South, but for the entire nation.
The university has a somewhat conflicted, although historic legacy.
The university was originally named for George Washington, who helped the institution's funding in the early days. Confederate General Robert E. Lee served as president of the school for five years, until his death in 1870, whereupon the school was renamed Washington & Lee University. Lee was related to Washington, though a couple generations apart.
Holding classes on MLK Day provided controversy in the past, yet, Ruscio noted it is the faculty who approve the academic calendar, and the Law School has chosen to cancel classes on that day. He also highlighted the university has an institution-wide MLK Legacy Week.
As far as the confederate flags go, Ruscio said those are only at the Lee Chapel:
Lee Chapel displays replicas of eight battle flags that represented different armies of the Confederate States of America, at the back of the chapel's main floor, near the statue called "The Recumbent Lee." These replicas are designed for historical and educational purposes. I am aware of no similar flags displayed anywhere else on our campus.

Based on Lee Chapel's policies for the use of the facility by non-University groups, a private group has reserved the chapel for a lecture on Civil War history as part of Lexington's community-wide events commemorating the Commonwealth of Virginia's holiday, Lee-Jackson Day. This is not a University-sponsored event, and W&L does not observe Lee-Jackson Day.
Ruscio concluded by stating the students "raised important questions that relate to ongoing discussions at the University," leaving the door open for future conversations.
SUBSCRIBE AND FOLLOW
Get top stories and blog posts emailed to me each day. Newsletters may offer personalized content or advertisements.
Learn more