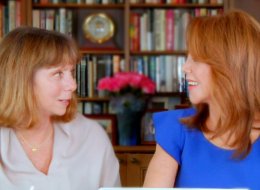 Executive Editor of The New York Times, Jill Abramson—who has been featured on Forbes' list of the Most Powerful Women in recent years—believes that there are three essential qualities a woman must possess in order to be powerful in the workforce.
First, Abramson said, it is critical to have a sound sense of judgment. Next, it is essential to surround yourself with people who support you, but who will also tell you the truth—even if that entails telling you that you may be out of line. "That's vital," Abramson said, "so that you do not abuse that power once you acquire it."
Finally, Abramson asserts that a woman must possess an absolute passion for what she does. "This is a good indicator of finding success as well as achieving power," she said.
For more of Jill Abramson's life and career, view the slideshow below:
The Rise And Rise Of Jill Abramson
Jill Abramson has enjoyed a long, successful career in journalism, and is currently serving as the first female Executive Editor of The New York Times. Born and raised in New York, Abramson considers her title at The Times the ultimate honor.

Early in her career, Abramson worked as an investigative reporter for The Wall Street Journal. During her time there, she co-authored the critically acclaimed nonfiction chronicle, "Strange Justice: The Selling of Clarence Thomas" with Jane Mayer. Here, Abramson and Mayer greet the media at the 1994 National Book Awards, where their book was a finalist.

Abramson joined The New York Times in 1997, working first as deputy bureau chief and investigative reporter, then as Washington editor and bureau chief. It was a match made in heaven. "In my house growing up," she says on the paper's web site, "The Times substituted for religion. If The Times said it, it was the absolute truth."

During Abramson's reign as Managing Editor of The Times, from 2003 to 2011, she oversaw the reporting of major international events (the Iraq War, the election of Barack Obama), as well as internal dramas (the Jayson Blair plagiarism scandal). Here, she appears at the 2006 Annual Matrix Awards in New York, where was she honored as "an outstanding woman in communications."

In 2011, Abramson authored a book inspired by her beloved golden retriever, entitled "The Puppy Diaries: Raising a Dog Named Scout." When we interviewed her, she told us that her second dream career would be dog breeder!

In 2011, Abramson, 57, was officially named Executive Editor of The New York Times, the first woman to head the paper's newsroom in its 160-year history. Here, she proudly takes her place among framed portraits of her all-male predecessors.

As the first woman to hold the Executive Editor post at The New York Times, Abramson is keenly aware of the demands that puts on her personal life. "I am in awe of women who have full family lives and seem to work round the clock in the 24/7 news cycle," she once commented. Here, she enjoys some down time at a Swiffer event, with (from left) her husband of 33 years, Henry Griggs; dog trainers Cesar Millan and Chris Velez -- and, of course, her beloved Scout.

Her landmark ascent to the top of the Times masthead brought out many feelings for Abramson. In a New Yorker report about her appointment, she described herself as "excited" by her historic breakthrough, but "a little nervous" because she knew that some colleagues in the newsroom were afraid of her. Here, she takes charge at a Page One morning meeting.

Always in demand on the talk circuit -- and always eager to chat about her beloved Times -- Abramson spoke at a 2012 event entitled "The Future of The New York Times" at the 2012 SXSW Music, Film + Interactive Festival in Austin, Texas.

During her tenure at The Times, the paper has successfully grown its online presence to powerhouse proportions. "I like the immediacy of blogs and the democratizing effects of letting millions of voices bloom on the Web," she has said. Here Abramson poses for a quick photo with Scott Dadich, Editor-in-Chief of WIRED, at the 2013 WIRED Business Conference: Think Bigger.

Even as she oversees The Times during a technological revolution on the Internet, Abramson confesses to being a pushover for the old-fashioned newsprint version. "I admit that I am hopelessly hooked on the printed newspaper," she has said. "I love turning the pages and the serendipity of stumbling across a piece of irresistible information or a photograph that I wasn't necessarily intending to read." Here, Abramson chats with writer Ken Auletta at The New Yorker Festival in 2013.

Throughout her stint as The Times' Executive Editor, Abramson has faced criticism, most notoriously in an eviscerating piece on Politico that described her newsroom manner as "stubborn" and "impossible." Abramson processed the critique in her signature rational way. "I cried," she told Newsweek. "But by the next morning, I wasn't completely preoccupied by it anymore. I had my cry and that was that."

From Arts Editor at The Harvard Independent, to Senior Reporter at the Wall Street Journal, to front-line general at The New York Times, Jill Abramson has remained a pillar of high journalistic standards and courageous newsroom leadership. And she is ever hopeful about the future of her profession: "I've taught college journalism courses at two universities," she says, "where my students taught me more than I did them about how news is consumed." Here, Abramson celebrates with her colleagues in 2013, as The New York Times is awarded another batch of Pulitzer Prizes.

One of the qualities that makes Abramson such a successful leader is that she has a terrific sense of humor. "The news itself is often so difficult to absorb," she says, "and laughing is what helps you let off the tension. You have to laugh."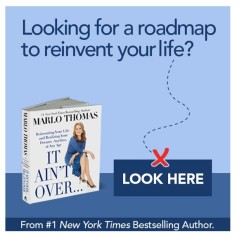 Add Marlo On Facebook:
Follow Marlo on Twitter:

Weekly Newsletter

Sign up to receive my email newsletter each week - It will keep you up-to-date on upcoming articles, Mondays with Marlo guests, videos, and more!

Sign up here