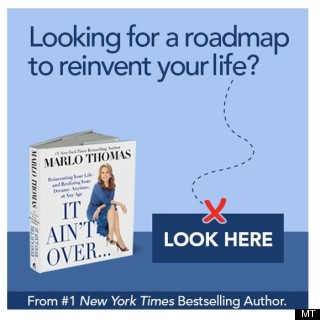 "One of the reasons I started my website is that I wanted a place for women to come together and dream. We women need to know that we don't have to hang on to an old dream that has stopped nurturing us -- that there is always time to start a new dream. This week's story excerpt is from my latest book, It Ain't Over Till It's Over. When a tragic accident left Heidi Ganahl widowed at 22, she left behind the dream secret that she and her husband had shared. But a decade later, she dusted off their old business plan–and it's now worth $60 million dollars."
-- Marlo, MarloThomas.com
When Heidi Ganahl was in her early twenties, she seemed like one of the lucky ones. Most of the big building blocks of her life were set firmly in place: She and her husband, Bion, were young, in love, and living an adventurous life in Colorado, where he was finishing his degree in business, and she had a good job as a pharmaceutical rep.
They even had a dream for a business they wanted to start together one day: a day-care center for dogs. Heidi and Bion loved their dogs, and hated leaving them behind when they traveled, but they never had much luck finding a good boarding facility for their two mutts, Winnie and Mick.
The camp for dogs that Heidi and Bion imagined was spacious and clean, offering loads of room for pooches to run and play together. The idea seemed so promising that they even wrote up a business plan for it. "We were both very entrepreneurial, very creative," says Heidi. "We knew we didn't want to have boring eight-to-five jobs, and what could be better than working together to build a business we loved?"
They each had non-boring ideas for fun, too. So for Bion's twenty-fifth birthday, Heidi's family treated him to a private flight in an open-cockpit "Snoopy" stunt plane. "Bion had such great energy and spirit, and normally, I did everything with him," Heidi says, "but that day I stayed back home to help with a community garage sale, so my parents went to watch. As the pilot was doing a flyby, so that my folks could take pictures, the plane suddenly dove into the ground -- right in front of them. I still remember the moment I heard the news: My brother was the one who had to come tell me that Bion had been killed."
The marriage, the friendship, the dream -- it was all gone.
Three months later, Heidi received a $1 million settlement as a result of the crash. "I come from a lower-middle-class family," she says, "and that was a lot of money to me. At first I thought, What good is this money if it can't bring Bion back?
"I really wanted to see through the idea that Bion and I had come up with, but people around me kept saying, 'That will never work. You'll just waste all of your money. Do something practical.'" So Heidi complied, launching a few conventional businesses -- a high-end baby-bedding catalog and a financial-management firm -- but neither idea really clicked. By the fall of 2000, she had only $83,000 of the original $1 million left in the bank -- and she was hobbled by a growing sense of desperation.
Enough was enough, she decided. And that's when she finally dusted off the business plan she and Bion had written a decade earlier.
Slideshow Continues Below Article
Heidi Ganahl, a pharmaceutical representative based in Colorado, had a dream to open a specialized dog daycare center with her husband. After she was tragically widowed at age 22, Heidi was forced to put that dream on hold. Ten years later, she returned to that business plan, and her company -- the largest dog-care franchise in the world -- is now worth more than $50 million dollars.

Heidi was given her first dog, Daisy, as a special gift for her third birthday, and it was puppy love at first sight. "I have always loved dogs," says Heidi. "They don't play emotional games—they just love you, love you, love you. They make the world a better place." She knew from the time she was a child that she wanted to help dogs just like Daisy.

Heidi and husband Bion were both avid animal lovers, adopting numerous dogs from animal shelters throughout the course of their relationship. Here, Heidi and Bion smile with shelter rescues Winnie (left), a chow-retriever mix; and Mick, a collie-boxer mix.

The adventurous couple would travel to fun, exotic locations whenever their schedules allowed. Here, the couple smiles on the beaches of Cancun. In this same spirit of adventure, Heidi's family treated Bion to a private flying lesson in a stunt plane for his 25th birthday. No one could have predicted that this would end in tragedy, as the plane suddenly crashed during a flyby, leaving Heidi widowed at age 22.

After ten years of grief and slow recovery, Heidi found the strength to dust off that business plan she and Bion had put together before his death. With the mission of creating a comfortable, safe and -- of course -- fun place for dogs to stay while their owners were away, Heidi went to work on opening her first facility in downtown Denver. Here, Heidi smiles with Taso, the first dog she adopted with Bion.

Dissatisfied with the quality of other pet kennels and temporary homes, Heidi wanted to create a modern, fun daycare environment for dogs -- that had a twist: owners would be be able to log in online to monitor how their pooches were being cared for, viewing them via webcam. The wheels for Camp Bow Wow were set in motion.

Heidi's idea to set up video surveillance which connected owners with their pets was novel and fun, and it quickly caught on with locals. "By going online, they could watch their dogs having fun," Heidi explained. Here's a sample shot of a play area at Camp Bow Wow, as seen from an owner's iPhone.

To persuade local customers to try out her facility, Heidi would visit nearby parks with her young daughter, Tori, and hand out flyers to dog owners that offered a free day at camp. Insider perk: each flyer would also include a yummy dog treat.

"We wanted to create a place where a dog could be a dog," Heidi said, "and where owners could feel less guilty about leaving them with us." Here, a group of happy pups play outside on a sunny afternoon at Camp Bow Wow.

The canine campers get to spend all day romping and playing indoors and outdoors with other dogs, receiving lots of individualized attention from certified camp counselors. Here, a few furry friends take a quick dip in the pool on a warm day at camp.

After the initial success of Camp Bow Wow in the Denver community, Heidi found another new source of happiness -- in a man named Jason. In January of 2009, Heidi and Jason got married.

Here, Heidi and Jason -- along with Heidi's daughter, Tori -- celebrate at their wedding; a momentous and joyous time for Heidi after years of hardship.

Tori, who is currently a student in college, has been a big help to her mom at Camp Bow Wow, interning and helping to care for the campers. Here, Heidi and Tori smile alongside adorable family pets Raider (a black lab), and Scout.

Picking up the pieces and starting an exciting new life together, Jason and Heidi's family continues to grow. From left to right are Jenna, Tori, Hollie, Jason, Jack and Heidi, alongside family pets Raider and Scout.

Camp Bow Wow is now a multi-million dollar business -- the largest dog-care franchise in the world, with 150 camps in 40 states and Canada. Here, campers Bernie, Pepper and Zoomie give the sniff of approval during playtime.
"As I paged through it," Heidi remembers, "I thought, Man, this is good! In every bone of my body, I knew it was exactly what I was meant to do. Ever since getting my first dog, Daisy, for my third birthday, I have always loved dogs. They make the world a better place."
Driven by a new energy, Heidi began to flesh out the idea. The name she came up with -- Camp Bow Wow -- seemed perfect, and she started to visualize the space. Dogs would need to have both indoor and outdoor areas to play and socialize, to run and rest. There would be separate spaces for the younger dogs to romp, while the older ones could just hang out and snooze. Then Heidi hit on an ingenious idea -- not for the dogs, but for their owners: She'd set up webcams throughout the facility so they could check in on their pets whenever they chose.
"We wanted to create a place where a dog could be a dog," she says, "and where owners could feel less guilty about leaving them with us. By going online, they could watch their dogs having fun." Tapping into what was left from the crash settlement, Heidi opened her first facility near downtown Denver, initially attracting clients by going to local parks and handing out flyers to dog owners that offered a free day at camp -- enticingly accompanied by dog biscuits.
Within nine months, Camp Bow Wow was hosting more than 40 dogs a day -- and gaining citywide notice. Over the next few years, Heidi guided it through a rapid expansion. "There were a lot of tense moments," she says, "But I was completely committed."
Today, Heidi is remarried, and the idea she and Bion had dreamed up all those years ago is now a $60 million business: Camp Bow Wow is the largest dog-care franchise in the world, with 150 camps in 40 states and Canada.
"It's been a long, tough road for me," Heidi reflects, "but life wasn't meant to be stagnant or easy. When you go through difficult times, you really learn who you are, and how to find your passion in life."
* * *
To read this story in its entirety -- and to find out how Heidi created Camp Bow Wow -- get your copy of It Ain't Over Till It's Over, on sale now.

Add Marlo On Facebook:
Follow Marlo on Twitter:

Weekly Newsletter

Sign up to receive my email newsletter each week - It will keep you up-to-date on upcoming articles, Mondays with Marlo guests, videos, and more!

Sign up here