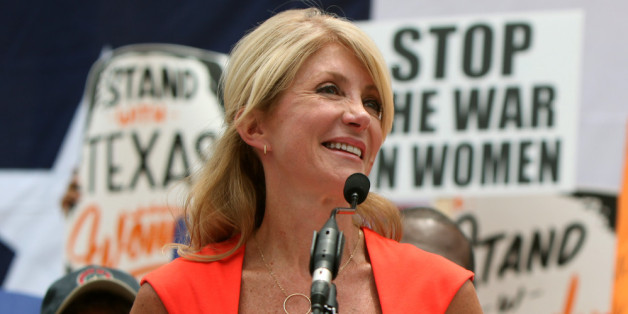 The November midterm elections are still several months away, but inside a three-story brick building in downtown Fort Worth, Texas, a maze of offices buzzes with dozens of 20-something, mostly female staffers drafting press releases and fundraising pitches on laptops while others work the phones, coordinating volunteer block-walkers for Democrat Wendy Davis' gubernatorial campaign. With donated desks and a funky brown leather couch that has a hastily scrawled Don't Sit On Me sign on it, the headquarters, inside the remnants of an old hotel, are part college dorm, part war room.
Deputy campaign manager Terrysa Guerra, 32, sits in the small office she shares with two women, scanning the campaign's Twitter feed to gauge the impact of a press release sent out that morning on Davis' Republican opponent, Texas Attorney General Greg Abbott. Guerra has worked with Davis before—she successfully ran her 2012 State Senate reelection campaign, one of the toughest, most expensive races in Texas, which many said Davis would lose—and knows what it takes to win. She's had her staff of 40 pulling 12-hour days for the past seven months. "We're working as if it were a month before the election," Guerra says. "Nobody has created a structure this quickly, with this amount of staff."
SUBSCRIBE AND FOLLOW
Get top stories and blog posts emailed to me each day. Newsletters may offer personalized content or advertisements.
Learn more