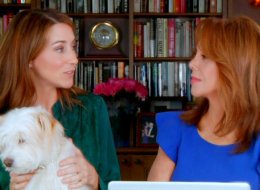 When it comes to preventing your dog from barking at guests, Certified Dog Trainer Andrea Arden had some expert advice for us.
If you want to stop your dog from barking at guests when they arrive, Andrea believes it all boils down to proper management.
"If you know your dog has established a habit of barking when people enter the door, then you need to prevent the situation," she explained.
To prevent this behavior, Andrea recommends having your dog rest quietly in a separate room or in a crate away from the door when people arrive. You can also keep your dog on leash when guests arrive to prevent lunging and barking.
When it comes to why your dog may be barking when guests arrive, there are a few possible causes. First, your dog might be barking out of excitement or enthusiasm. In this case, if you scold your dog by yelling his or her name, a dog might actually interpret this as essentially "barking back," further worsening the situation. Instead of "barking back," Andrea recommends being quiet and calm when instructing your dog to stop barking.
A few other methods: bring your dog to the door on a leash to prevent charging or bring treats to calm your dog down. If you start feeding your dog at the door to help calm the animal, the dog will eventually learn to calm down when approaching the front door, expecting a treat in exchange for proper door manners.
"This way, your dog will go to the front door and think it's a good place to be well-manners to get a treat, not to go throw a big barking party!" Andrea laughed.
For more of Andrea's puppy training tips, view the slideshow below:
Andrea Arden Puppy Training Tips
Get a leg up on your dog's behavior by taking control of his favorite things (food, toys, attention and anything else you know he wants). Ask your dog to do something in exchange for each thing he wants -- "sit" to go for a walk; "lie down" to earn his favorite squeaky toy; come to you when called, to get a tummy rub. Soon your dog will begin to love playing the training game!

Carry a few pieces of kibble with you to use as rewards during walks. Frequently stop and ask your dog to sit -- especially when she's greeting people -- and reward her with a treat. This will help her to learn to walk better on leash (because she's paying better attention to you) and sit politely to greet people.

Teaching your dog to develop a terrific "sit" or "down" or "stay" is as easy as 1-2-3. Start by asking him to sit or lie down. If he does as instructed, reward him immediately and release him from the command (we like the word "okay"). Next time, ask your dog to sit or lie down and wait for a full second before rewarding him and releasing. Then try for two full seconds -- then three, and so on. Within no time, your dog will be lying patiently for up to three minutes or more!

Keep an eye out for your dog doing something right -- such as lying down quietly -- and praise her for it. Focusing on, and rewarding, good behavior is the best way to make "bad" behavior less likely to happen. In this case, if your dog is lying quietly, there is an endless list of wrong things she isn't doing. Too often, we focus on inappropriate behaviors but fail to acknowledge good behaviors.

Get your dog focused on a favorite object, like a food-stuffed chew toy. This will eliminate inappropriate barking and chewing and, when needed, will teach him to settle down quietly.

When you have dog-friendly company, ask them to hand-feed your dog a few treats. Have them use gentle training techniques (no pushing or pulling, please), and they can ultimately lure your dog to sit and lie down for each piece. This teaches your dog to like the company of other people, and to respond reliably to their requests.

Reinforce a well-socialized dog by making sure she meets new, friendly people every week. Don't assume that because your dog is friendly today, she will be friendly tomorrow. Socialization should continue for the rest of your dog's life.

Whenever you have five seconds to spare, call your dog, ask him to sit, wait four seconds and then give him a tiny treat. You'll have a dog with great recall -- and a "super-sitter" -- before you know it!

If your dog is acting hyper, ask her to settle down beside you, wait seven seconds, and then give her a tiny treat. Playing this game many times throughout the day is a great way to nurture a dog who co-exists calmly in your home.

Maintain a house-trained -- or paper-trained -- dog by occasionally rewarding him with a tasty treat for going to the bathroom in the right spot -- even if he is an adult and already knows this skill. This will keep you on top of the training game.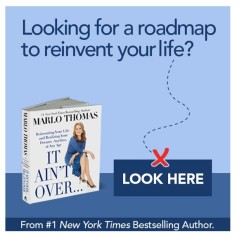 Add Marlo On Facebook:
Follow Marlo on Twitter:

Weekly Newsletter

Sign up to receive my email newsletter each week - It will keep you up-to-date on upcoming articles, Mondays with Marlo guests, videos, and more!

Sign up here