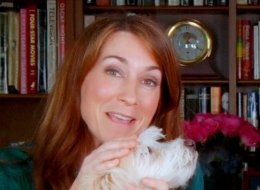 Certified Dog Trainer Andrea Arden shared some expert advice on the single most important tip for training a puppy.
"The most important thing is management," Andrea explained, "and preventing predictable behavior problems."
Rather than teaching your dog to sit or lay down, Andrea emphasizes the importance of more basic behavior management. For example, when Andrea's adorable dog Nora was a puppy, Andrea would keep her on a leash often so she wouldn't wander around and make mistakes at home when unsupervised or jump on guests when they arrived.
Andrea also provided healthy alternatives, like chew toys, so that Nora could occupy herself and enjoy chewing on something other than inappropriate household items like shoes or pillows.
"Set your puppy up for success by using gentle teaching tools," Andrea advised.
For more of Andrea's puppy training tips, view the slideshow below:
Andrea Arden Puppy Training Tips
Get a leg up on your dog's behavior by taking control of his favorite things (food, toys, attention and anything else you know he wants). Ask your dog to do something in exchange for each thing he wants -- "sit" to go for a walk; "lie down" to earn his favorite squeaky toy; come to you when called, to get a tummy rub. Soon your dog will begin to love playing the training game!

Carry a few pieces of kibble with you to use as rewards during walks. Frequently stop and ask your dog to sit -- especially when she's greeting people -- and reward her with a treat. This will help her to learn to walk better on leash (because she's paying better attention to you) and sit politely to greet people.

Teaching your dog to develop a terrific "sit" or "down" or "stay" is as easy as 1-2-3. Start by asking him to sit or lie down. If he does as instructed, reward him immediately and release him from the command (we like the word "okay"). Next time, ask your dog to sit or lie down and wait for a full second before rewarding him and releasing. Then try for two full seconds -- then three, and so on. Within no time, your dog will be lying patiently for up to three minutes or more!

Keep an eye out for your dog doing something right -- such as lying down quietly -- and praise her for it. Focusing on, and rewarding, good behavior is the best way to make "bad" behavior less likely to happen. In this case, if your dog is lying quietly, there is an endless list of wrong things she isn't doing. Too often, we focus on inappropriate behaviors but fail to acknowledge good behaviors.

Get your dog focused on a favorite object, like a food-stuffed chew toy. This will eliminate inappropriate barking and chewing and, when needed, will teach him to settle down quietly.

When you have dog-friendly company, ask them to hand-feed your dog a few treats. Have them use gentle training techniques (no pushing or pulling, please), and they can ultimately lure your dog to sit and lie down for each piece. This teaches your dog to like the company of other people, and to respond reliably to their requests.

Reinforce a well-socialized dog by making sure she meets new, friendly people every week. Don't assume that because your dog is friendly today, she will be friendly tomorrow. Socialization should continue for the rest of your dog's life.

Whenever you have five seconds to spare, call your dog, ask him to sit, wait four seconds and then give him a tiny treat. You'll have a dog with great recall -- and a "super-sitter" -- before you know it!

If your dog is acting hyper, ask her to settle down beside you, wait seven seconds, and then give her a tiny treat. Playing this game many times throughout the day is a great way to nurture a dog who co-exists calmly in your home.

Maintain a house-trained -- or paper-trained -- dog by occasionally rewarding him with a tasty treat for going to the bathroom in the right spot -- even if he is an adult and already knows this skill. This will keep you on top of the training game.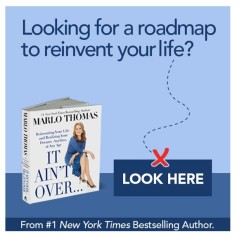 Add Marlo On Facebook:
Follow Marlo on Twitter:

Weekly Newsletter

Sign up to receive my email newsletter each week - It will keep you up-to-date on upcoming articles, Mondays with Marlo guests, videos, and more!

Sign up here