"Southern Charm," Bravo's newest reality show that everyone loves to hate, is set in Charleston, S.C., and supposedly embodies everything "southern." According to the show, that means people without jobs who possess backwards attitudes but say everything with a delightful accent.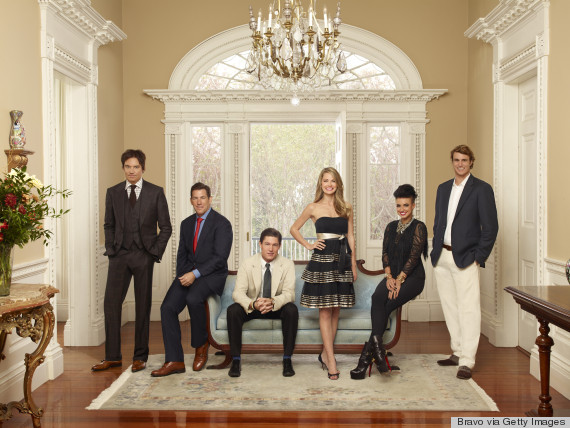 "Southern Charm" Season 1 cast. Pictured from left to right: Whitney Sudler-Smith, Thomas Ravenel, Craig Conover, Cameran Eubanks, Jenna Lee King, William Shepherd 'Shep' Rose III.
The show is hard to watch with its "stabbin' cabins" and politician-turned-felon, but many still tune in. I love it because cast member Shep Rose and I share the same hometown (Hilton Head, which is close to Charleston), so I know what's totally fake and what's real. But just because you're a reality TV playboy, doesn't give you the license to comment on women's bodies. And that's exactly what went down in a recent interview with Elle magazine.
Here are the quotes I'm calling into serious question:
"Camel toe potential is off the charts. Leave a little to the imagination, please."
"I like it. A little seductive. It looks like satin, which is endlessly fun to touch. Good luck if your boobs aren't spectacular, though."
"Not sure if it's the model, but I like this. It's fun to tear off some clothes at the end of the night. She looks kind of classy."
"This is cute. I'd imagine this look would draw a lot of attention in a room -- that 'that girl's a badass and I hate her cause I secretly want to be her' attention, which I love."
EXCUSE ME, Shep? "Camel toe is off the charts?" "Good luck if your boobs aren't spectacular?" "Tear some clothes off at the end of the night?" And Craig, who made the last observation, inadvertently reinforces the negative stereotype that all women are just jealous of other women. These comments are disgusting and I'm disappointed that Elle would print them and perpetuate this nonsense that "boobs are everything" and that you have to be "classy" for some sleaze like Shep or coward like Craig.
Just stick to showing off your socks, Shep!
UPDATE: Here are the responses from the "Southern Charm" cast, though not all of them are charming:
@ledbettercarly flimsy argument linking a sentence long fashion critique to deep seeded chauvinism. Thought hhi folks had a sense of humor
@ledbettercarly did you see the top? It was basically a nighty. An she was braless. Calling it like I see it there.
SUBSCRIBE AND FOLLOW
Get top stories and blog posts emailed to me each day. Newsletters may offer personalized content or advertisements.
Learn more