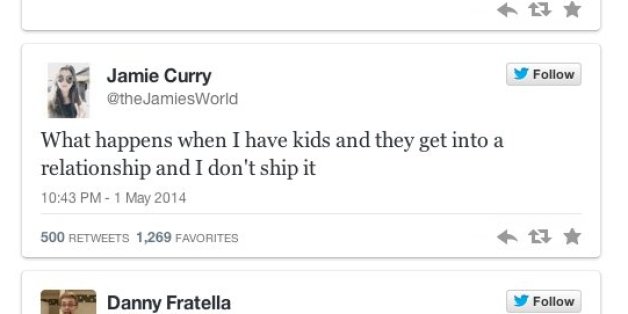 Every week, we round up the best 140-character quips and insights from our esteemed blogging team -- and other equally awesome teen tweeters. Scroll down to read the latest batch and share your own suggestions by following @HuffPostTeen!
This week's eclectic mix of "Mean Girls" anniversary tweets and all the things in between has been compiled by Kami Baker (@peeta_is_aBAKER), a teen journalist who loves pugs... and Twitter.
a donut that's also a waffle that's also french toast that's also a pancake that's also a cupcake that looks like a cheeseburger that's also
TODAYS GONNA BE A FRICKIN GREAT DAY I HOPE U ALL HAVE A GREAT DAY TOO. I JUST ATE A VERY GOOD GRANOLA BAR.
beyoncé & jay z started off with marriage

now a stadium tour together

and soon world domination
I want to open a brunch establishment with free, high-functioning wifi called 'Hashtags & Hash-browns'
I'm only a few thousand followers away from being respected by my peers.
"I have so much homework but I deserve a little break!" and I am now 55 minutes in to a Howard Stern interview.
I could either (a) watch two more episodes of House tonight or (b) conspicuously watch two more episodes of House during school tomorrow
My mom just told me she loves me and hugged me. I think she has a crush on me #gross
everything happens for a raisin
I don't know about you, but I'm feeling 92. Need a wheelchair to get to the bed.
I actually have a special place in my heart for garlic x
WHY DO PPL KEEP FAVORITE/RETWEETING ONLY ONE TWEET OF MY TWO PART TWEET
I'm as good at getting Instagram likes as I imagine a large porcupine family is at not making a scene at a balloon store
i am such a sucker for cutely-named clothing items while online shopping. ah yes the evening in paris dress i'll have you
On Wednesdays, we do physics labs.
"How much of this can I do in school tomorrow?"- More thoughts of an overachiever
i'm listening to paris hilton's debut album for the first time in years and i have no regrets
Thinking about what a great listener I am as you're talking to me.
crushes are called crushes bc they crush your hopes and dreams
If your name is Kathy, your life is just supposed be wasting time until becoming the best old lady at Bridge Club
Why isn't the Mean Girls 10 year anniversary a federally recognized holiday?
does anyone even actually do pilates or are they all just pretending
Instead of starting school early in the morning, school should start at like never
I have an ongoing rotation of cardigans and no one's noticed yet
What happens when I have kids and they get into a relationship and I don't ship it
I'M LITERALLY SO HAPPY FOR MY FRIENDS THEY'RE ACCOMPLISHING SO MUCH LIKE YOU GO GLEN COCO
cant wait 2 find my troy bolton
Follow HuffPost Teen on
Twitter |
Instagram |
Tumblr |
Pheed |
SUBSCRIBE AND FOLLOW
Get top stories and blog posts emailed to me each day. Newsletters may offer personalized content or advertisements.
Learn more