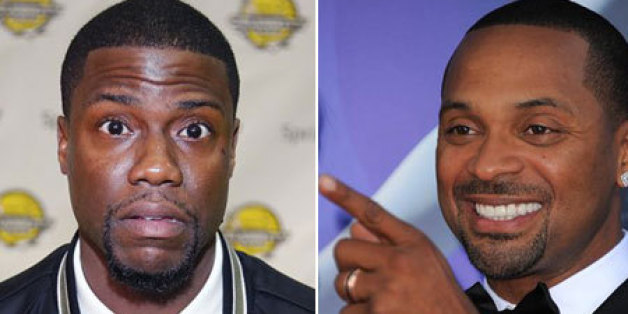 Kevin Hart's persistent hustle around the comedy circuit has resulted in so many sold-out shows that in 2011, the Philadelphia funnyman broke Eddie Murphy's long-standing ticket sales record by netting over $1.1 million for a two-day Los Angeles tour stop of "Laugh At My Pain."
Yet Hart's meteoric rise has left at least one fellow comedian unimpressed. Last Friday, during an interview on the Dallas radio show "DeDe In The Morning," Mike Epps declared Hart to be "one overrated comedian."
"One thing about Hollywood is, if you're in a movie and you're good in it and it don't make money, guess what? You won't get recognized," said Epps, who is known for his roles in the "Friday" film franchise. "But it's a lot of bad movies that comedians get in and they're not good in them and they make money, and then people just keep putting them in movies."
"In this business right here, guess what -- sometimes marketing can be bigger than talent. This business is not about being funny. This business is about being forced on people," Epps continued.
"You could be forced on people and then you can be really, really funny. If the business was based on being funny, wouldn't none of these suckas be in it. If this business was based on being handsome, wouldn't none of them [...] Everybody that's rich is ugly. From the athletes to the actors, to all of them. If this business was based on being handsome, I would have a billion dollars."
Following Epps' remarks, Hart took to social media by responding through a string of explicit tweets and an Instagram video.
Just heard @TheRealMikeEpps called me "Overrated" on the radio this AM! I missed it bcuz I was on set "WORKING"do u remember what that is?
Hey @TheRealMikeEpps why don't you do us all a favor and Kill your god damn self....Didn't you learn ur lesson from fucking with me last x
Don't talk 2 me until u start selling out ARENA'S @TheRealMikeEpps if ur shows aren't sellin & u need sum help maybe I will send out a TWEET
Oh one more thing @TheRealMikeEpps if you keep talking crazy I will book shows the same day as you in the same cities and shut yo shit down
That's called FLEXIN @TheRealMikeEpps ....I'm going to go take my OVERRATED ass back to WORK now, MY WORK HERE IS DONE BOOOOOOM!!!!
I'm the type of guy that loves to see people succeed in all aspects of life...what I'm doing should motivate the next man.
Correction: A previous version of this slide misspelled Griffin's last name as "Griffith."
SUBSCRIBE AND FOLLOW
Get top stories and blog posts emailed to me each day. Newsletters may offer personalized content or advertisements.
Learn more