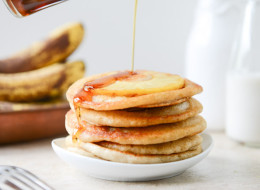 We know it's hard to cook with pineapple. Once you've got a beautifully ripe and wonderfully golden one in front of you, all chopped and prepped, the only thing you really want to do with it is eat it. Right away. But if you can practice a little self restraint you'll see that you can make some pretty great dishes out of this tropical fruit.
We're not just talking about salsas (though there are so many delicious ways to make pineapple salsa) but cakes, cocktails and quesadillas too. Next time you've got your hands on a perfectly ripe pineapple, don't eat it. Try cooking with it instead.
Pineapple Mojitos

Annie's Eats

Pineapple Upside Down Banana Pancakes

How Sweet It Is

Grilled Pineapple Guacamole

Annie's Eats

Caramelized Pineapple Quesadillas

How Sweet It Is

Decker Cake

Brown Eyed Baker

Caramelized Pineapple

TASTE

Mini Pineapple Upside Down Cakes

A Beautiful Mess

Grilled Tomatillo And Pineapple Salsa

Jennifer Causey

Pork-And-Pineapple Fried Rice

Tina Rupp/Food&Wine

Hummingbird Cupcakes

Brown Eyed Baker

Cuban Avocado, Watercress, and Pineapple Salad

James Ransom

Pineapple Orange Banana Popsicles

Gimme Some Oven

Yogurt Panna Cotta With Pineapple Granita

Con Poulos/Food&Wine

Hawaiian Pork Burger

Simply Recipes

Piña Colada Frozen Yogurt

Pass The Sushi

Pineapple-Jicama Salsa

Kana Okada/Food&Wine

Pineapple Ice Cream Topping

Brown Eyed Baker

Mango-Pineapple Non-Alcoholic Sangria

Grishma Shah/Food52

Spicy Pineapple Margarita

Tara Donne

Roasty Island Pineapple Ice Cream

cristinasciarra/Food52

Pineapple Mint Juleps

How Sweet It Is

Hawaiian Pizza

Bev Cooks

Pineapple Chicken Salad

Annie's Eats

Pineapple Chicken Teriyaki

Steamy Kitchen

Grilled Pineapple With Smoky Avocado Vinaigrette

boulangere/Food52

Banana Pineapple Cake

This Gal Cooks

Grilled Pineapple And Corn Salsa

Bev Cooks

Tropical Fruit Salad

Ray Kachatorian

Red Curry Chicken Burgers With Grilled Pineapple

foxeslovelemons/Food52

Kung Pao Chicken Skewers

A Spicy Perspective

Ham Balls With A Pineapple And Chipotle Drizzle

Dax Phillips/Food52
Want to read more from HuffPost Taste? Follow us on Twitter, Facebook, Pinterest and Tumblr.