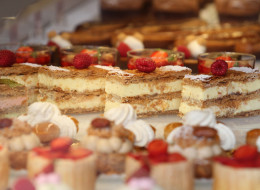 We hate the idea of having to give up our favorite foods. That's why we generally just don't. But there's something about hypothetical games that we can't resist, especially when they involve eating. We once asked on Facebook which food people would choose if they had to eat just one thing for the rest of their lives. The responses were, er... interesting.
We're on to round two of that game and we've narrowed down the choices. This time around we want to know: if you had to pick just one French pastry to indulge in till the end of your days, which would you choose?
State your choice in the poll below and let us know why you opted for your pastry preference in the comments. But before you vote, let us give you a little visual refresher of why each pastry deserves a chance to be your number one.
Croissant

Flickr: bour3

Macaron

Flickr: mellow-stuff mie

Madeleine

Flickr: Karen Booth

Almond Croissant

Flickr: Jurga M.

Eclair

Flickr: squeezemonkey

Fresh Fruit Tart

Flickr: HEN-Magonza

Chocolate Croissant

Flickr: Roger Ferrer Ibáñez

Paris Brest

Flickr: Kasey

Mille-Feuille

Flickr: Hana Selly

Petit Four

Flickr: erburstiner
Want to read more from HuffPost Taste? Follow us on Twitter, Facebook, Pinterest and Tumblr.