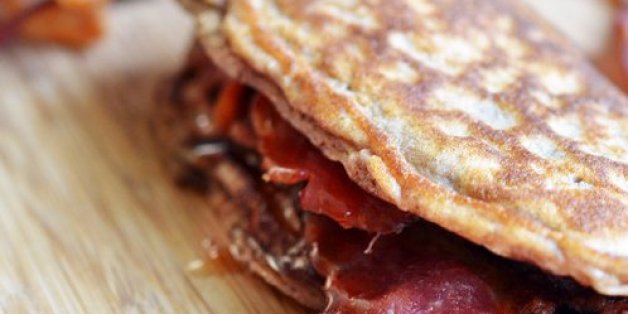 We're big fans of the breakfast sandwich here at HuffPost Taste. While the fast food world rages its breakfast wars with monstrosities like Taco Bell's Waffle Taco and Dunkin' Donuts' Glazed Donut Breakfast Sandwich, we focus our energy on the real deal -- breakfast sandwiches like this Bacon + Egg + Cheese creation from chef Marc Forgione.
We have a special place in our hearts for waffle sandwiches, and any sandwich made of biscuits, obviously. But our latest obsession is the pancake sandwich.
Pancakes already come in stacks, so it just makes sense to sandwich something in between the layers. Pancake sandwiches are delicious and, being sandwiches, they make it easier than ever to combine all our favorite foods in one bite. Whether it's eggs and bacon or peanut butter and jelly, we'd like it sandwiched between two pancakes, please. If you're skeptical, these nine pancake sandwiches should change your mind:
Want to read more from HuffPost Taste? Follow us on Twitter, Facebook, Pinterest and Tumblr.
ALSO ON HUFFPOST:
PHOTO GALLERIES
18 Breakfast Sandwiches