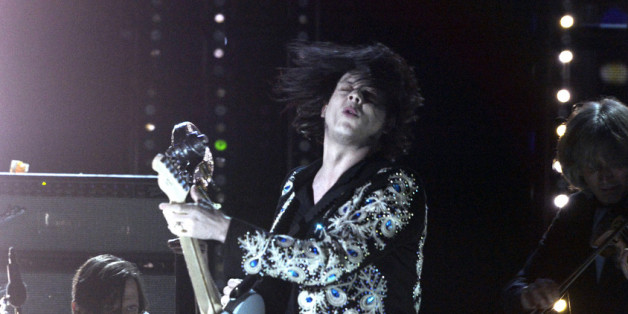 "Lazaretto," set to be released next month, is White's second solo album, following 2012's "Blunderbuss." But he's made it full of firsts, including the first-known record that creates a floating hologram when it spins.
White demonstrates the hologram in a video promoting the album, and if you look closely, you can see the two angels spinning in a hologram hand-etched by artist Tristan Duke:
White's label, Third Man Records, is putting out "Lazaretto." The label and White both came to Nashville from Detroit, where White got his first acclaim as the frontman of early-2000s garage-rock duo The White Stripes. You know, these guys.
While vinyl is just a small segment of music sales, more records are steadily being sold -- 33 percent more last year than in 2012, according to Billboard.
"Vinyl is the real deal," White told NPR in 2010. "I've always felt like, until you buy the vinyl record, you don't really own the album. And it's not just me or a little pet thing or some kind of retro romantic thing from the past. It is still alive."
"Lazaretto" has a lot of other odd features that are sure to get a vinyl lover overly excited and set the bar high for other artists releasing LPs. The record starts from the inside and plays outward, with a locked groove at the outside of the record that will play in a continuous loop. There are "under label grooves," hidden songs under the label on each side, that you can play through the paper, a first for LPs. They also believe it's the first three-speed record, with most of the record playing at 33 and 1/3 RPM but the hidden songs playing at 78 and 45 RPMs.
Side two of the record opens with two intros to "Just One Drink" on side-by-side grooves, an acoustic and electric version, which then come together in the middle of the song. The album also has alternates cosmetically: one side of the album is shiny, and the other is matte black, referencing the look of a 1970s 78.
Overwhelmed yet? If all of those features mean nothing to you, you can still listen to the record normally, White assures.
"You don't need a slide rule and a compass to enjoy this record at all, as complicated as we're making it sound," White says in the video. "There's all these hidden, beautiful things in there but you can just put this record on and play it normally at 33 and 1/3."
That is, if you actually have a record player.
Also on HuffPost:
20 Movies And Albums That Are 20 Years Old In 2014
SUBSCRIBE AND FOLLOW
Get top stories and blog posts emailed to me each day. Newsletters may offer personalized content or advertisements.
Learn more