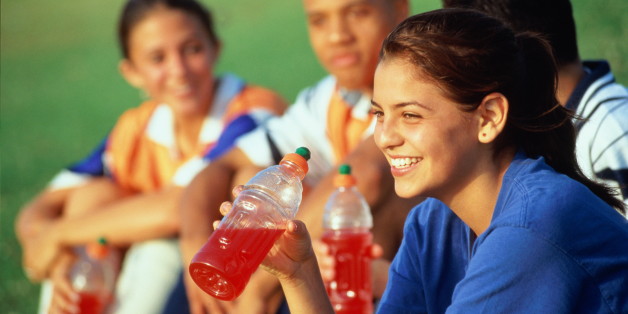 Teens who throw back sports or energy drinks on the regular are more likely to consume other sugary drinks, smoke cigarettes and spend more time in front of their favorite screens, according to a new study.
The research, conducted by University of Minnesota and Duke University researchers and published in the Journal of Nutrition Education and Behavior, found that more than a third of the 2,793 teens surveyed consumed sports drinks and nearly 15 percent consumed energy drinks at least once a week. Both boys and girls were more likely to smoke, spend more time playing video games and consume more sugar-sweetened beverages if they were regular energy or sports drink consumers, according to the study.
"Among boys, weekly sports drink consumption was significantly associated with higher TV viewing; boys who regularly consumed sports drinks spent about one additional hour per week watching TV compared with boys who consumed sports drinks less than once per week," lead author Nicole Larson, Ph.D., MPH, RDN, of the University of Minnesota, Minneapolis said in a statement. And "boys who consumed energy drinks at least weekly spent approximately four additional hours per week playing video games compared to those who consumed energy drinks less than once per week."
The findings certainly do not prove that sports and energy drink consumption causes negative behavior, but it could prime young brains to look for greater stimulation. "You get sensitized on high doses of caffeine," Cecile Marczinski, an associate professor of psychological science at Northern Kentucky University who has studied the health effects of energy drinks but was not involved with the new research told HealthDay, "and suddenly other stimulants like nicotine from cigarettes are perhaps more appealing."
Earlier on HuffPost:
Better Than A Sports Drink
SUBSCRIBE TO & FOLLOW PARENTS
HuffPost Parents offers a daily dose of personal stories, helpful advice and comedic takes on what it's like to raise kids today. Learn more