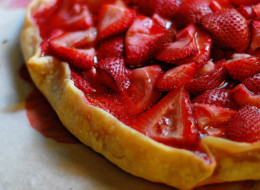 You know winter has finally passed when you begin to see fresh strawberries at the market. And since we've spotted this berry, we're happy to report: spring is in full swing. We've been enjoying our favorite veggies for some time already (asparagus, Vidalia onions, fresh peas), but now we can begin to indulge in the sweet side of this season.
While we're all for indulging in a basket or two of strawberries au naturale, this berry has the potential to make so many delectable spring dishes -- and right now, we're swooning over the sweet stuff. Strawberry rhubarb pie and strawberry shortcake are definitely must-make recipes this time of year, but the options go far beyond to bright granitas, mascarpone tarts and more.
Here are 41 strawberry desserts we'll be making and eating as fast as we can:
Strawberry Cream Cheese Tart

Annie's Eats

Strawberry Milkshakes

Annie's Eats

Strawberry Lime Crostata

Midge from Food52

Angel Food Cake with Balsamic Strawberries

Dreamy Creamy Strawberry Ice Cream

Annie's Eats

Strawberry Crostata

Buns in my Oven

Strawberry Shortcakes

Genius Recipes/Food52

Roasted Strawberry, Brie And Chocolate Grilled Cheese

How Sweet It Is

Strawberry And Plum Wine Granita

Romulo Yanes

Strawberry Pâté di Frutta

Kelly Campbell

Strawberry-Mascarpone Tart

eeshani from Food52

Strawberry Banana Cream Baked Oatmeal Squares

How Sweet It Is

No-Bake Chocolate Covered Strawberry Cheesecakes

How Sweet It Is

Pomegranate-Strawberry Mousse

New Media Publishing

Strawberry Rhubarb Cobbler

Simply Recipes

The River Café's Strawberry Sorbet

Genius Recipes from Food52

Strawberry-Shortbread Tartlets With Mascarpone

HuffPost Taste

Strawberries With Buttermilk Ice And Balsamic Vinegar

Tina Rupp/Food&Wine

Warm Strawberry Crumb Cake

John Kernick/Food&Wine

Strawberry Topped Golden Cake

New Media Publishing

Strawberry Tart With Flaky Pastry

Cedric Angeles/Food&Wine

Fresh Strawberry Popsicles

HuffPost Taste

Meringue Nests With Roasted Rhubarb And Strawberry Sauce

New Media Publishing

Strawberry Cheesecake Profiteroles

Bakers Royale

Strawberry Shortcake Cupcakes

I Can Cook That from Food52

Rhubarb Strawberry Compote

Merrill Stubbs from Food52

Strawberry Basil Paletas

A Girl Defloured

Strawberry Cheesecake

Pass The Sushi

Strawberry Cupcakes with Ice Cream Buttercream

Lemon Sugar

Strawberry Skillet Pie

Always With Butter

Strawberry Lemonade Beer Poundcake

The Beeroness

Strawberry Shortcake Milkshake

A Spicy Perspective

Strawberry Frozen Yogurt

Simply Recipes

Salted Caramel Covered Strawberries

Steamy Kitchen

Strawberry Almond Cream Tart

Steamy Kitchen

Strawberry & Plum Crumble

Verses From My Kitchen

Strawberry Lemonade Popsicles

Pass The Sushi

Chocolate Covered Strawberry Cake

Annie's Eats

Strawberry Balsamic Gelato

bell'allimento

Strawberry-Pistachio Semifreddo

Brown Eyed Baker

S'more Strawberries

1 Fine Cookie
Want to read more from HuffPost Taste? Follow us on Twitter, Facebook, Pinterest and Tumblr.