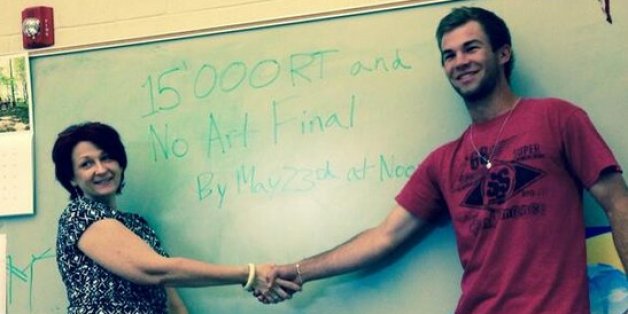 Well, this is one way to get out of a final.
The Round Rock High School senior said he has until May 23 at 12 p.m. to complete his challenge, per ABC. The tweet in question had more than 7,200 retweets as of Friday morning.
"We are very disappointed in the fact that abcnews.com did not do any fact checking regarding the Round Rock High School exam story," district spokesperson JoyLynn Occhiuzzi said in a statement to local outlet KVUE-TV. "The art students at Round Rock High School will be taking their final exams at the end of the month."
On Twitter, the teen is still imploring followers to support his cause.
@KevinKlineNews I believe a deal should be honored. And I will see that through.
Half way there! We can do this 👌👌👌
Regardless of whether or not Muennink actually gets out of his final exam, he seems to have started a trend. Around social media, similar challenges have been popping up in recent days.
Muennink's art teacher was not immediately available to comment on the status of their deal.

Earlier on HuffPost:
The Most Interesting High Schools In America
SUBSCRIBE TO & FOLLOW PARENTS
HuffPost Parents offers a daily dose of personal stories, helpful advice and comedic takes on what it's like to raise kids today. Learn more