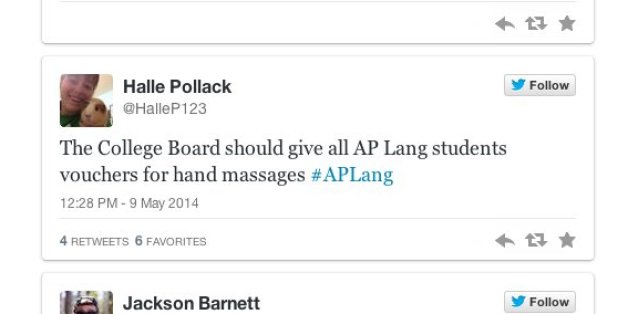 Every week, we round up the best 140-character quips and insights from our esteemed blogging team -- and other equally awesome teen tweeters. Scroll down to read the latest batch and share your own suggestions by following @HuffPostTeen!
This week's tweet roundup was compiled by Gillian Horn. Gillian is a high school junior from Philadelphia, Penn. who loves the rain, "The Real Housewives" and taking pictures of her dog, Louie.
I can never drink warm things while wearing glasses...I get too fogged up #nerdstat
Dude, when I was a kid, my favorite color depended on which Power Ranger I wanted to be. #ItsMorphinTime
The College Board should give all AP Lang students vouchers for hand massages #APLang
Most important issue of the century: @Lupita_Nyongo has less than 1M followers on Twitter
I'd really like to meet someone who can eat just one Oreo and congratulate them
I can't wait to celebrate junior year being over by sleeping for a week straight
Me: "Can we get my face on m&ms?"

Mom: "No, your face would overpower it. We're already worried about your head not fitting in the cap."
teacher: did you even study for the test???

me: no but i showed up looking cute and that's all that matters
In addition to all of my other accomplishments throughout high school, 6:15 this evening marks the 24 hour mark of only eating Nilla wafers
why does 2chainz sometimes only wear one chain????so deceiving
I don't care if you're a republican or a democrat or a panda, our president is solid gold
My family is out doing *insert activity here* and I am home studying again: a memoir.
Here's a joke for those of you with exams tomorrow. Why did the student stare at the orange juice carton? Because it said, "concentrate".
Imagine simultaneously being on adderall and playing 2048 😯
SUBSCRIBE AND FOLLOW
Get top stories and blog posts emailed to me each day. Newsletters may offer personalized content or advertisements.
Learn more