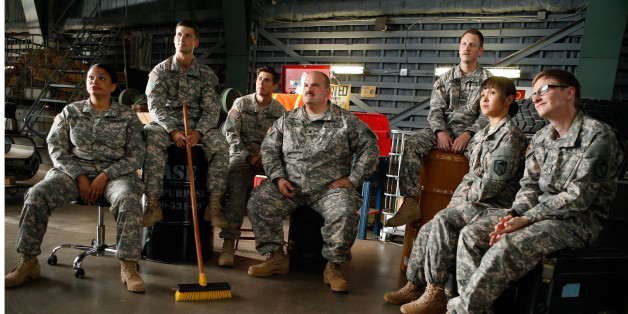 Nothing is safe on TV these days, except maybe "Scandal." It's the grim time of year when networks start to set their upcoming lineups, cancelling shows that may have underperformed and picking up pilots to try to win viewers come fall. NBC's "Community" got the ax before it could make six seasons and a movie. ABC cut the hilarious "Trophy Wife," and FOX said goodbye to the great-but-ignored "Enlisted."
The networks have eliminated 17 shows so far, including meh comedies like "Growing Up Fisher" and freshman dramas like "Believe" (see the full list here). We were broken up about some of these great losses, but the stars themselves took to Twitter to say farewell to their shows. Take a look at how some TV actors said goodbye.
Thanks Community fans for being the greatest that have ever walked the earth & Thanks @danharmon for letting me be on the coolest show ever.
Welp, the time has come. #Community has been cancelled. Still, FIVE seasons for a bubble show is MIRACULOUS! Much love to you all! :) xoxo
I love you Community. I love you Greendale. Thank you to all the Human Beings who made this the coolest 5 year college experience.
Twitter isn't big enough to hold my condolences and more importantly my gratitude to the best fans, cast and crew in TV history. Excelsior.
Found out my TV show Super Fun Night got cancelled...am singing sad songs in my car right now...it's sad! pic.twitter.com/mE8gaQUurI
With a 1.8 demo average rating and a People's Choice Award for 'Best New TV Comedy', I think we did pretty well for a freshman show x
Thank u all for your loyalty and passion #TrophyWife fans. We had a blast! Sad to see it go but happy to have lifelong family out there. Xx
It has been a wonderful journey for me. I ❤ my #TrophyWife family. I'm grateful for all of your love & support to @TrophyWifeABC & me. xoxo
Thanks wonderful fans for your loyal support of #TrophyWife What a wonderful year. I will miss our sweet cast & our BADASS crew Whats next?
overwhelmed by the amount of @TrophyWifeABC love coming at us. Thanks for all the support. Reminds me I'm not crazy-this was a killer show.
Hey #carriers just want to thank you for all your love and support these past two seasons. These past two years have been the most...
... family and I'm so grateful for this experience. Keep shining #carriers, dream big, and don't forget to wear fabulous shoes! 💋💋
I had a lot of fun people. Fans, thank you for the support. enlistedonfox crew well, who are we???… http://t.co/Oa37c7O2lS
I miss this so much already.... Thank you to all our amazing fans. Thank you for watching & supporting… http://t.co/mem4QYmHqf
SUBSCRIBE AND FOLLOW
Get top stories and blog posts emailed to me each day. Newsletters may offer personalized content or advertisements.
Learn more